As I think about my own senior and as I read the stories of communities doing a variety of things to honor the Class of 2020 in the best way they can right now, I find myself thinking about the final scene in the movie, It's a Wonderful Life.
Although I'm thinking about a movie that was produced when this class wasn't even thought of, maybe not even watched by some of them, and does not completely align with the story of the Class of 2020, the very last scene keeps rewinding in my head.
That scene is my favorite.
It reminds me of the power of community, the power of people coming together for one of their own, plus the importance of reminding people of their value especially when they need it the most. George Bailey needed to be reminded of his worth and his community delivered.
You may not want to hear this right now and you have earned your right to disagree with this statement, but nevertheless I'd like to put it out there anyway. To the Class of 2020 you are very lucky. Even if you don't feel that way, I think you are.
Seniors have watched their communities come together for them
If you are lucky enough to live a life in which you get to witness for a moment the power of people coming together to correct a wrong, then you have been given a gift. You have been given a gift that not all have the privilege of receiving. You have been given a gift that is unforgettable. Perhaps you already see it that way, perhaps someday you will or maybe you never will. That's ok, but let me take a moment to encourage you to think about it that way.
You didn't walk across the stage, nor say a proper good-bye to your classmates, or participate in all the traditions that come with graduation, but you have experienced something most classes don't get to experience.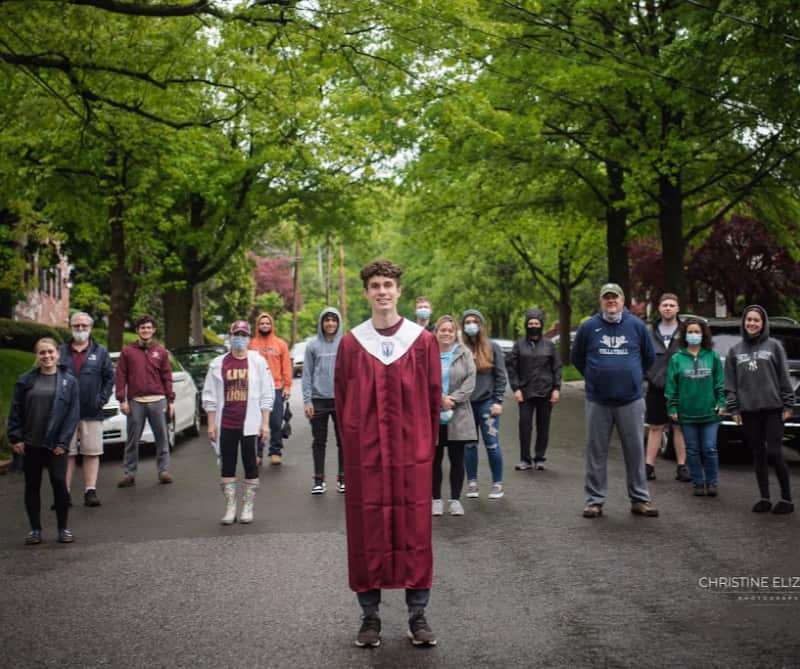 You experienced humanity.
You had your George Bailey moment. You experienced, in your own unique way a community coming together when you needed them most; a community coming together when a wrong needed to be made right.
Trying not to give much away for the members of the class of 2020 who have not yet seen the movie, I'll just add this: you received what Old Man Potter, the character found in almost every movie (the one that nobody likes) could never quite understand. Old Man Potter could only manipulate and figure out the material things, he couldn't figure out or even begin to appreciate, the power of community, the power of the human spirit. In many ways, George Bailey couldn't either until the community showed him, by simply showing up for him in that scene at the very end of the film.
You lost but you also received
Yes, Class of 2020, you lost some, but look what you received. Your community, your own version of George Bailey's community, showed up.
Your community showed up with signs of all types, sizes, and colors and they were all about you. They put those signs on lawns, houses of worship, school grounds, and countless other notable places, the very places that anchor your own community; probably the very places that helped you be who you were meant to be.
Teachers, principals, coaches, all types of school staff, showed up. The showed up, literally, by standing on your lawn, your sidewalk, your walkway, your driveway, anywhere you were! And for many, it didn't matter how many lawns they needed to travel to so that they could stand on them. To them, showing up was doing whatever it took to show up… for all of you.
Friends and family showed up in parades, the best kind of parades these days, the drive-by kind. You were honored and applauded with handmade signs, music playing, and their familiar voices and laughter traveling through open windows.
Your community showed up for you
Your community showed up through countless hours of labor and love putting together carefully crafted videos and online tributes about you. Then they shared their tributes with the world.
It's also important to recognize that many of your community members showed up to help, to respond, to do what's right, without much guidance. School administrations showed up without having a "What to Do in Place of Graduation Global Pandemic Handbook." They have now written that handbook; let's all hope and pray we will never have to use it again. Perhaps members of the Class of 2020 will work to prevent that through the paths you choose.
Your own family showed up and I'm sure they showed up in a way that was right and fitting for you. They're your people so they already have a handbook on how to show up for you when you need them the most. They started writing that book on the day you were born.
Perhaps when it comes to the effects of a global crisis on life's milestone moments, we have been taught that you can loose and gain at the same time. Perhaps experiences and moments don't necessarily have to be one or the other. Perhaps the beauty and learning comes from receiving both.
To the Class of 2020, watch that final scene in It's a Wonderful Life and then realize that you have had your George Bailey moment, and know that all who witnessed and participated in this peculiar time with you are wishing you a "wonderful life."
More to Read:
I Have Two Sons Graduating: Here's What I'm Focusing On (It's NOT Loss)
My Son Wants No Part of Virtual Graduations or "Senior Adoptions" and That's Okay
Marlene Markoe-Boyd is always looking for a new friend, a good laugh, a shared moment, and a treasured story. She's a helplessly devoted mom and wife, which makes her the perpetual family nagger, but if you asked her family, they would say her heart truly belongs to her new four-legged (never talks back, asks for money, or wants the car keys) love, named Chandler Boyd. They would also say they she never nags the dog, the most spoiled being on the planet. Her writing pieces are always a work in progress while sitting on the bus during her daily commute to New York City. Many of them can be found on Facebook.