Dear Moms,
We feel for you, we really do. Since your eldest child entered kindergarten, you have probably heard that nothing in parenting compares to the stress of college admissions. Few of us arrive at this stage without feeling anxiety, and, if it is now your teen's turn to begin the college hunt, read on.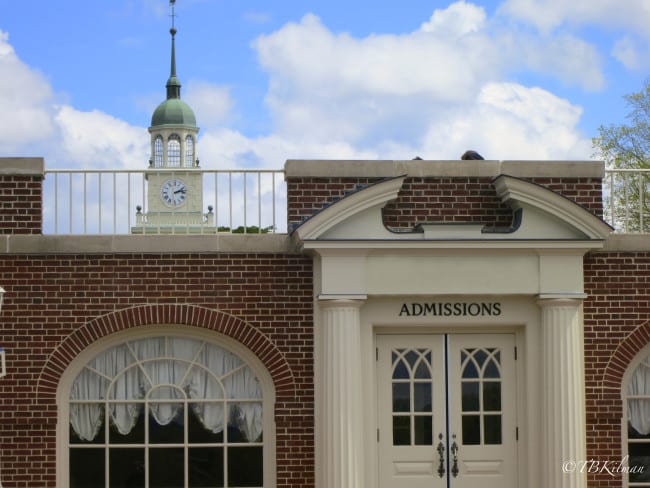 Lisa and I are two moms with five kids between our families and we have seen each one through the college process. As kids reach these last few years in high school, they have the end in sight. "The end" is not only college application season, but also their high school years and childhood in general. Letting them go is part of the college process and one reason why it feels so painful. If you have a high school child, we want to throw an arm around your shoulder, knowing that it is you who needs support right now.
Sixteen tips to keep in mind during the college admissions seasons
1. Looking for colleges is a family matter.
Do not feel remotely guilty being involved, despite experts who may tell you to let your child "own the process." It is their search, but parents should be there to lend an ear, a hand, and a credit card as needed.
2. Do not expect your child's counselor to be omnipotent.
Regardless if your kid is in a mega-public school with slim staffing or a small independent one, there is a limit to what the counselors can (or should) manage. Do not sit back and wait to be told what to do. The best ones will outline parameters, offer sources and give you a timeline, but you and your child need to be proactive.
3. Find one friend with whom you can level.
College admission remains a contact sport and your child may be falling in love with the same school her friends are dreaming about, too. Your kid is told to not discuss his scores or his schools and you are discouraged from this. But it is helpful to find a trusted friend who can be your confidant, the person with whom who you compare notes. If you find a great website, you share it with her. If you are worried about your kid's scores, this is the person in whom you can confide. They have to be trustworthy and it works best with reciprocity. Moms need the buddy-system now as never before.
4. You do not owe anyone any info.
Remember when you were pregnant with your now-high schooler and perfect strangers would want to come up to you and rub your belly? This is the same phenomenon and you may be taken aback by personal questions about your kid's scores and choices. Repeat after us, you are not obligated to answer anyone so practice a few stock lines "It's early in the process, "Still deciding," "He's working very hard…." and walk away.
Family reunion coming up? Neighbors who are genuinely interested? Tip them off, in advance, that your kid is inundated with who,what,when,where,why and suggest they keep the topics to sports, TV, current events, the family dog….anything but college.
6. College visits are key.
Spring break and summer vacation will revolve around visiting schools with your kid. Clear your calendar and help with the logistics. If your child is interested in playing a sport, this is the time to schedule meetings with coaches at each stop.
7. College visits can be painful.
Time consuming, expensive, and sometimes futile, these trips are also the best way for your kid (and you) to determine if there is a fit. The info sessions will begin to blur and I pity the college reps who know this, yet soldier on trying to make their school sound genuinely different and better than every other college on your kid's list.
8. College visits do not have to be painful.
You can create an element of vacation if you keep your child's interests in mind when planning the trip. When traveling with our football-obsessed son, we always sought out the stadium on each campus, first thing, and booked hotels with gyms so he could fit in workouts. With our daughter, locating the cute shopping areas near campus, preferably walkable, was relevant to her college search and added a dose of much-appreciated diversion.
9. College visits are memorable.
Your child may have been too young to remember your family vacations when he was small, but he will remember these trips. Neither of my kids will forget the football coach who chewed and spat tobacco during the interview in his office (gross) or the serendipitous Italian dinner my daughter and I shared with a classmate and his mom (lovely.) There will be a few standout moments so keep your sense of humor and think of the potential for shared memories during these road trips with your kid.
10. College admissions will be rocky at times.
Prepare for meltdowns,  the silent treatment, and standoffs. If your child is a junior now, he has entered the season of stress overload. Just know that these next few months are exactly what people are talking about when they say "junior year." As a mom, you know how to recognize when your kid needs help and you can create a refuge for her. Sleep is key, comfort food works, too. Rather than piling on the administrative aspects of college hunting to an already over-worked kid, take on the logistical and research burden yourself.
11. Keep your child safe from themselves.
The confluence of kids getting drivers licenses, their legitimate need to decompress, and teen brains craving risk can result in dangerous behavior. This is not the time to let up on supervision. Help your kid by protecting him from a stumble that could have major consequences to his well-being, on every level.
12. Try not to obsess.
Resist the urge to sit at your computer pouring over US News rankings. There is much to learn and college hunting can become overwhelming if you don't beat it back.
13. Don't forget about the siblings.
Remember your younger children have to live through this, too. Throughout their lives, they have sat in car seats in carpool lines, endured their elder siblings' games, and slept through dance recitals. At this point in their lives, try to create a buffer zone for them so they do not have to live through every detail of their elder sibs' college hunt, long before it is their time.
14. Extra steps are required for athletes.
If you child is an athlete, prepare to devote additional time to the college hunt. First, do you have any objective assessment of how talented your child really is? A swimmer or runner has times and stats but if your kid is a baseball or soccer player…hmmm, not so easy to determine. Consult with your child's coach, talk to parents who have kids playing that sport in college, and begin to research NCAA rules.
15. Platitudes may be true but who wants to hear them?
"It will all work out, every kid gets into school, this will pass" – none of these are convincing or helpful. People who say these things may mean well but have limited ways to try to comfort you. Feel free to ignore them and their messages.
16. Create family time.
Finally, lure your child out of their college-prep cave as much as possible. Cook their favorite dinners, buy tickets to watch their hometown teams, plan any diversion that can involve siblings and it will be time well spent.
If you are on the steep upper part of the learning curve that we recently jumped off of, we feel for you. I remember when it was my senior awaiting the decisions from her list of colleges; I was surprised to feel a little wistful about this stage of parenting. Though there were times when college admissions felt like trench warfare, I was in the trenches with good company – close friends, my children and husband. There are no other people I would rather have by my side.