My memories of my 80s summers are near and dear to my heart. When I think about my childhood, summer days are what stand out the most. Whether my sisters and I were trying to build forts in the woods, or eating homemade popsicles on a blanket in the front yard, we were making precious memories even though I'm pretty sure we thought we were going to die of boredom.
This summer, I'm throwing it back to the 80s with my teens. I want to share with them some of the things I did as a girl growing up in an entirely different century.
I'm not sure if they'll be into it or not, but I certainly will, and that's all that matters. They'll get plenty of time to do what they please and be with their friends- this mama is taking summer back to a different time.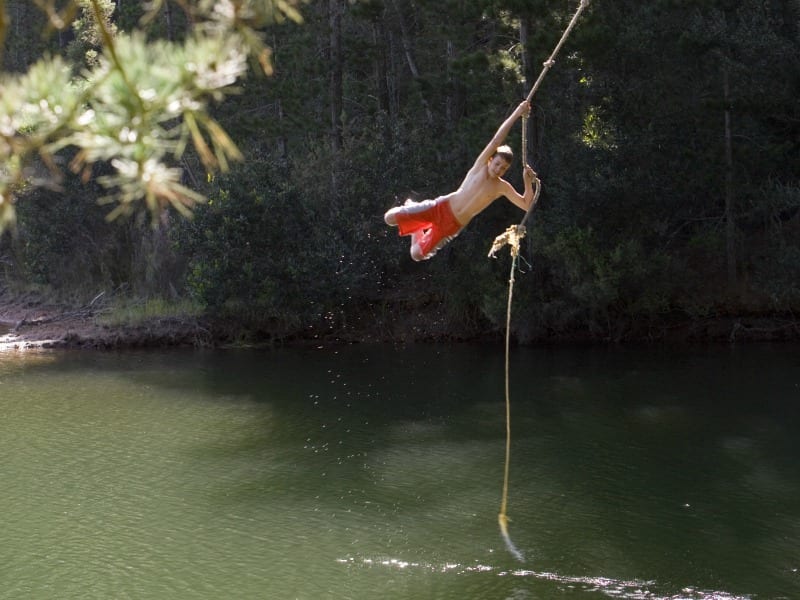 Here are 10 Things I Loved About My 80s Summers
1. Making friendship pins
I used to sit and make these for hours with my friends. Before we knew it, our shoe laces would be full of colorful pins to trade. I loved running my fingers over them and hearing them swish when I ran. Making them always felt therapeutic and my kids need to experience this. Even if they don't sport them on their shoes, I will.
2. Bringing fried chicken to the beach
I'm sick of bringing organic juice, carrot sticks, and healthy junk to the beach. My mom used to make fried chicken, a pitcher of kool- aid and call it good. I'm swinging through KFC on our way to the beach after I mix up a big batch of artificially flavored red juice. My mouth is watering at the thought of holding a drumbstick.
3. Having an '80s movie marathon
The first rainy day, I'm busting out the popcorn popper and was are going to watch them all:  Dirty Dancing, all the Back to the Future movies, The Goonies, The Karate Kid, Footloose, and Ferris Bueller's Day Off. My sisters and I had these on repeat during the '80s– we made sure to tape them when they came to television– thank God my parents didn't tape over them.
4. Feathering my hair
Every young woman must learn how to makes their hair big. I've got the curling iron and hair spray ready.
5. Jumping off a rope swing into the lake
I know this isn't an '80s thing, but I feel like it was more a thing then. My kids have never done this and I haven't done it since, well, the '80s.
6. Catching fireflies
Spending nights in our backyard doing this was incredibly wonderful. My dad once told us if "we rubbed the fireflie's glowing butt on our nose, our nose would glow." It didn't work, but it wasn't for lack of trying. I've got a few glass jars and a net so, we are set to head out in the tall grass after the sun goes down.
7. Embracing boredom
In the '80s, my sisters and I would start off many- a- day being bored, only to be knee-deep in a pile of dress up clothes a half hour later, or into my mom's makeup drawer. Some of the best days of our summer started out by being bored. My mom never assumed it was her job to give us anything to do but chores.
We loved our bright and pastel colored tie-dye t-shirts when I was a kid. Sometimes you could buy super cool ones, but it was fun to make them at home, too. We are going to transform the back yarn into a tie-dye station and dye all the shirts we can.
The music in the car will belong to me this summer. My kids call it the oldies station, but clearly, they need more of it in their lives. I think it's starting to rub off on them, too. Why, just the other day my son said, "Mom, I kind of like that song you were singing the other day by Whitney Jackson, can we listen to it?" Now, I didn't know if he meant my favorite Whitney Houston song, or my favorite Michael Jackson song, so we played them both just to be sure.
10. Making popsicles
Yes. Popsicles are easier to buy but so much fun to make. As kids, if there was any leftover kool aid from the beach (see #2), my mom would get out the popsicle molds out and freeze it up for a treat later.
I'm excited to see how far down the list we get before my kids tell me they've had enough, or if they will embrace it all.
Either way, it's happening and at least one of us will be happy with this throwback to my 80s summers.
Related Links
The Books We Absolutely Loved Reading This Year
Why Parents Need To Run Away From Home Once In A While
SaveSave
SaveSave
SaveSave
SaveSave
SaveSave
SaveSave
SaveSave