The other day I felt glorious: the sun was out, my son was driving me around, and when our favorite radio station started playing The Spice Girls, Wannabe, and my beloved son turned it up, I couldn't stop my body from moving even though it was killing him softly.
I mean, he tried many, many times and I could tell he regretted his decision but his wanting to hear that beat trumped his decision to turn it off so his mom could stop humiliating him because it's that good– even to someone who was born 7 years after the album came out.
It made me think about how there are so many songs from the '80s and '90s that are just so damn good we still love them, and so do a lot of today's teens.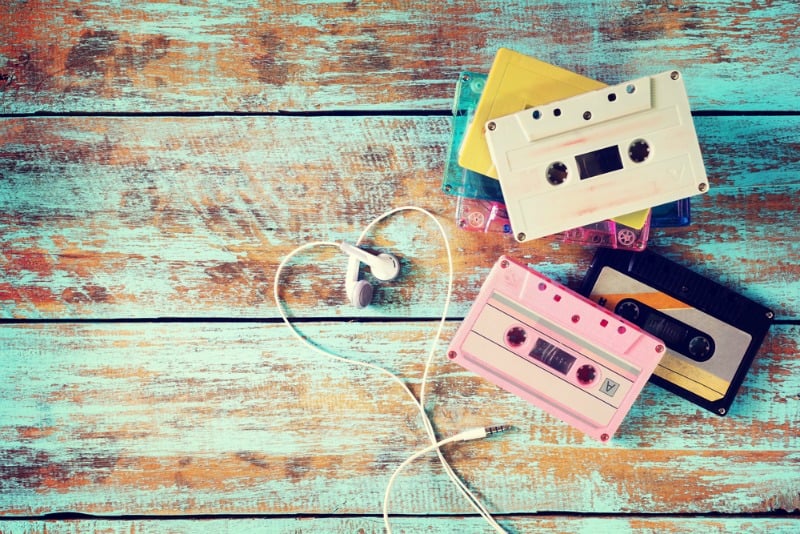 In fact, my daughter is addicted to listening to the song Scrubs by TLC. Every day after school, she goes up to her room and tells Alexa to blast it. I'm not sure if it's a gentle reminder to herself to stay away from said scrubs, or she just digs it.
No matter the case, that's just the tip of the iceberg. Here's a list of 20 songs from a time when women were showing their strength through music, and the male singers of the world made us swoon.
1. "Freedom! '90s" by George Michael
His voice is like butta, and that video with all the super models left my mouth agape the first time I saw it on MTV. There a chance I might still play it at full volume and walk around my bedroom in a sheet.
2. "Time After Time" by Cindy Lauper
So nostalgic and totally capable of giving you goosebumps no matter how many times you listen to it.
3. "Against All Odds" by Phil Collins
I mean, the emotion coming out of those notes is like no other. In high school, this song made me feel reckless and dramatic.
4. "Wannabe" by Spice Girls
This song stands the test of time. I have the teenagers to back it up.
5. "Alive" by Pearl Jam
Oh Eddie, you do it to us every time but Alive was haunting and sexy and we all had it on repeat at one time or another.
6. "Crash Into Me" by Dave Matthews Band
Very sexy, sexy. My college girlfriends and I can't think back to our college days without bringing up this band.
7. "Every Rose Has Its Thorn" by Poison
This song takes me to places I'm not sure I wanna go. Like my first make-out session in the back of a car, and the first time I slow-danced with a boy. I'm blushing just thinking about the awkwardness.
8. "More Than Words" by Extreme
So romantic, right? Don't tell me you love me, show me.
9. "Semi-Charmed Life" by Third Eye Blind
One of those songs you think you know the words to until you read the actual lyrics.
10. "Fast Car" by Tracy Chapman
My son played a remake of this song to me a few years ago and while it was good, no one can ever touch Tracy's original version.
11. "Boys Of Summer" by Don Henley
Who didn't have boys of summer?
12. "I Wanna Sex You Up" by Color Me Badd
Our parents hated it, we loved it and would turn it up while walking around the house sporting our Walkman. It's also a good reminder to teach my teens to never say to anyone, "I wanna sex you up." Like, ever.
13. "Push It" by Salt N Pepa
I will listen to this one until I die but it's also fun to bust out into the lyrics when you see people try to pull on a push-open door.
14. "I Will Always Love You" by Whitney Houston
Who hasn't tried to hit those high notes in the shower?
15. "Dream Lover" by Mariah Carey
Getting ready for a dorm keg party wasn't complete without a little Mariah in the background. We were all hoping tonight would be the night we'd meet our dream-lover in real life over a Keystone.
16. "Sweet Child O' Mine" by Guns N' Roses
This song and this band made me feel feelings I never felt before. It was always played at high school dances and no one really knew how to dance to it, but it still had to be played.
17. "With Or Without You" by U2
Listening to this song somehow makes you think of every person you've had a crush on. It also may make you want to stalk them on Facebook.
18. "Eye of The Tiger" by Survivor
This song makes me think of roller skating and sporting events. It has a way of getting everyone so pumped.
19. "Beat It" by Michael Jackson
The whole album was epic, but Beat It wins.
20. "Jump" by Van Halen
This song always has a way of sinking into your soul and making you believe you can do hard things– especially when played at a wedding after a few too many.
Who is in the mood to take it back about almost four decades and listen to the best hits? I'm definitely in the mood for an old fashion dance party with some of the best music ever made. Disclaimer: we are not responsible if you go deep into memory lane and start cyber-stalking old lovers and friends.
Related
Gifts For Teens And College Kids