Teenage boys get a bad rap. They are often characterized as hunched over their screens with remnants of snack food littering their desks. Moms complain that their sons have little interest in spending time with them. We are here to tell you that teenage boys are great this is how we spend time with them.
Twenty ways to spend time teenage sons:
Cooking. And into that we mix, drooling over cooking videos online, planning out perfect meals, shopping in those small specialty shops he loves, the prep, cooking and eating. I would add clean up, but let's be honest, we are often on our own for that!
Supporting our team. My favorite sports team? Whoever he roots for. He loves baseball, I become a fan. He switches to basketball, LeBron is my hero. If he were to move on to curling I would be right there with him.
Volunteering. Part good parenting, part good citizenry and part a chance to be with him, finding a cause that matters to you both will bring you together.
Hikes, bikes or other outdoor sports. Keeping up with a teenage boy can be a challenge but what a way to stay young. Whether it is in a kayak, swimming, or just throwing a frisbee they love the outdoors and so do we.
Tennis, Bowling, Golf. Find something you both want to learn to do and do it together.
Exercise. Is there a particular workout you love, spinning, yoga or rock climbing. Exercising together can be great bonding.
Board or card games. The list of games our sons have taught us can fill any evening at home. If you don't love learning new games the standbys of poker, bridge, gin rummy or anything else with a deck of cards makes for a fun night at home.
Eating out. His favorite place, your credit card, perfect evening.
Movie night in. Teaching Get Z about the best movies of the 80s is part of their cultural education.
Find a favorite show. Watching a long running series can be that thing we do together and then talk about it afterwards.
Coffee. A shared cup of coffee can be a lovely ritual to start the day. Or a nice morning break when we are all working and studying from home.
Ice Cream. If you can't start the day together over a cup of coffee, you can end it over a bowl of ice cream. Bring back childhood with sprinkles and toppings.
Camping. The great outdoors offers lots of time to talk and very poor cell signal, pretty much every mom's dream.
Driving. Whether it is a causal ride, running a few errands or teaching him to drive there is simply no place better to talk to a teenage boy than sitting side by side in the front seat of a car.
Shopping. Some teens care a lot about what they wear and are happy to shop with their mom and her credit card.
Concert. There has to be some overlap in your musical tastes–find a concert you would both like to go to or open your mind to something he likes and go together.
Explore. Find a new part of town, and neighborhood in a nearby city or some outdoor market and explore a place that is new to both of you.
Junk Food. A late night drive-through to talk about the day. Don't judge, a mom's got to do what a mom's got to do.
Take a Trip. Is there someplace you can go with your son, that is of interest to both of you? Take a weekend and go somewhere that you will both enjoy.
Being his biggest fan. It goes without saying from the moment he was born we were his biggest fan. But sometimes this is literal. Nothing more fun that sitting the the audience, the bleachers or the along the side lines, watching him do what he loves best.
We hope that some of these ideas work for you and your sons because, really, they can be a pleasure, if you know how to engage them.
Now! The Grown and Flown book is in paperback: a guidebook for raising sons, and daughters, to be independent adults who stay close to their parents…#lifegoal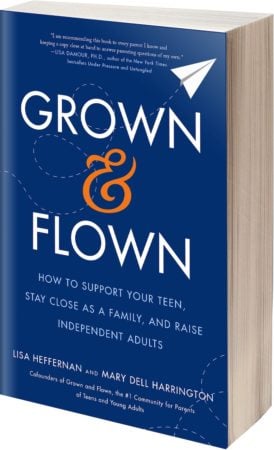 More to Read:
Clean is Sexy and Other Advice for Our Sons When you have a son, it is time to get real about the advice they truly need once they hit the teen years.