As with any number of things that captivate our teens' attention, we parents can tend to laser focus in on the negative – perhaps due to a single story we hear on the news – and then quickly generalize that the totality of that thing is bad. "All those video games are violent" or "Everything on that site is horrible!"
Instagram is a perfect example. It's one of the most-used social media networks for teens because it's so visual and simple to use. With the addition of the "Stories" feature, it's become even more popular with teenagers and young adults.
But some parents may worry that Instagram is a universe of picture-perfect accounts that can make teens feel bad about themselves and cause them distress over not getting enough "likes." Teens themselves admit to spending hours taking hundreds of pictures to produce just the right one, in just the perfect light, from just the exact angle, to be worthy of an Insta post.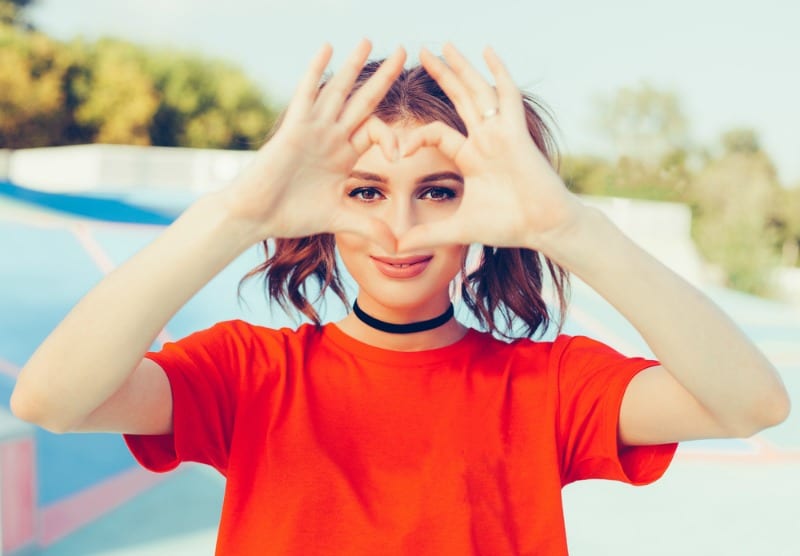 We assume that they all want to look like Arianna Grande or Kylie Jenner (Two of the Top 10 most followed people on Instagram) and we fret that our daughters' self-esteem might suffer because they think they don't have flawless hair, arched eyebrows, or plumped, pouty lips.
And who really can dance like Beyoncé, or ball like Ronaldo? Or afford those Gucci sneakers? Will following celebrities and highly-filtered friends just lead to more teen angst and dissatisfaction with their own lives?
Did you know that there are also a lot of Instagram accounts that spread body positive messages and acceptance? For a breath of fresh air, have your teen look into these 13 "self-love" accounts:
The Self Love Project (@theselfloveproject)
Run by a non-profit of the same name, this account empowers young women to love, trust and nurture themselves. It's full of soothing images and wonderfully simple quotes like, "Trust the timing of your life."
Bodyposipanda (@bodyposipanda)
This account belongs to Megan Jayne Crabbe, author of Body Positive Power. She's battled anorexia in the past, and now battles to combat any form of body marginalization or exclusion.
Serena Williams (@serenawilliams)
The greatest female tennis player ever, who unabashedly celebrates her strength and abilities on and off the court. I love this particular quote of hers: "I am who I am. I love who I am."
Harnaam Kaur (@harnaamkaur)
Harnaam Kaur is a British body positive activist who posts content to promote awareness of body shaming, cyber bullying, LGBTQIA+ issues, and mental illness. She works to challenge gender stereotypes in the media. She refers to herself as a "young, beautiful bearded woman."
Not Plant Based (@notplantbased)
Run by journalists Laura Dennison and Eve Simmons who have both suffered from past eating disorders, Not Plant Based aims to help people stop overly restrictive eating, decrease their fears surrounding food, and to prioritize mental and physical health.
Mama Cax (@mamacaxx)
Mama Cax is an amputee advocate, speaker and model who uses social media to dismantle images of what people with disabilities should be or look like.
My Face Story (@myfacestory)
This account was started by Kali Kushner, a young woman who reminds us all how many people struggle with cystic acne and how it gets edited completely away on social media, which leaves people feeling ashamed of their skin. She talks honestly about medications and diet changes that have and haven't worked for her.
Notoriously Dapper (@notoriouslydapper)
Kelvin Davis is a brawn model, author and activist who creates a place for men to feel safe talking emotionally about body image.
This Is Jessica Torres (@thisisjessicatorres)
Jessica Torres is a New York-based, Ecuadorian style blogger who effuses body positivity along with her love of great fashion. Her super funny, short videos are extremely relatable.
Any_Body.Co (@any_body.co)
Owned by Australian models Kate Wasley and Georgia Gibbs, this account highlights women of all sizes, and offers inspirational messages like this one: "Confidence is not 'They will like me' – Confidence is 'I'll be fine if they don't.'"
Winnie Harlow (@winnieharlow)
A Canadian fashion model and activist, Winnie Harlow has a prominent form of the skin condition vitiligo and suffered from intense bullying while growing up.
Curvy Girl Chic (@curvygirlchic)
Allison Teng is a plus sized, southern California based fashion blogger who shares her love of beauty, food, fashion and travel.
If a teen is willing to wade past all the Kardashian and Hadid sisters, with their airbrushed "perfection," there are plenty of Instagram accounts that can help them remember they are more than good enough, just the way they are.
Related:
Why This Mom Thinks Her Sweet Spot of Parenting Is Right Now
21 Absolutely Fabulous High School Graduation Gifts for Girls
SaveSave
SaveSave
SaveSave