Students who start building their professional network in high school have an advantage over those who wait until after college. Having a LinkedIn presence is pretty much a prerequisite for networking.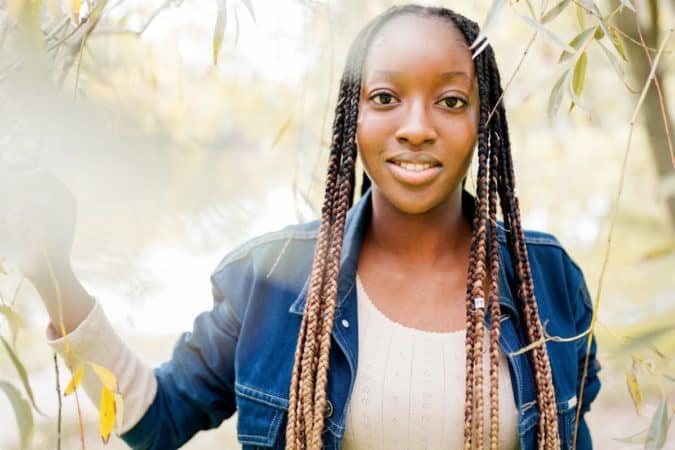 So what does a high schooler actually add to their LinkedIn profile — and how do they stand out, especially when they have little to no work experience?
Below is the complete high school guide to creating a LinkedIn profile, taken from Ready MindSet Go!, a program that combines mindset tools + professional networking strategy to help teens create a career & life they love.
How a high school student can create a LinkedIn Profile
1. Include a Profile Photo*!
Your teen's photo should be well-lit and clearly show their face. Avoid distracting backgrounds and/or clothing. They should be dressed professionally and perhaps smile while they're at it!
*If your child wants to take their profile photo themselves, they can still make it look professional!
Here's a page directly out of the Ready MindSet Go! workbook — How to Take A Professional Headshot (if all You Have is Yourself and a Phone!)
2. Add a "Headline"
Your student's headline, the text directly under their name, should include the name of their high school and their year.
"Incoming Junior at Punahou high school"
Most high school students are not reaching out to professionals. This is a great opportunity for your student to stand out and get noticed.
3. Include Experience & Education
Though several sections of a LinkedIn profile may remain blank while your child is still in high school, they can still include information in the "Experience" and "Education" sections.
Under Experience, your child can list any jobs (including babysitting or lawn mowing), internships, extracurricular activities, and clubs or volunteer work. Under Education, they will list their high school again and any other schools attended classes taken or certifications/academic achievements.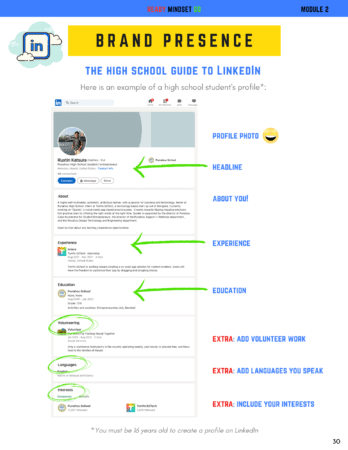 That's it! Now your child is ready to start networking, leveraging the vast (almost never-ending!) pool of professionals found on the LinkedIn platform.
Want to give your child a head start? Consider gifting them the program that will teach them networking, done the right way. Ready MindSet Go! (RMG) provides students with proven outreach strategies, email templates, tracking spreadsheets, and more to create the foundation for a lasting professional network.
Check out our Ready MindSet Go! Free Trial, where you will have access to some of our favorite modules.
Any questions about the program? We would LOVE to hear from you (we mean it!). Feel free to email (team@mindset-go.com) with thoughts, questions, and feedback (anything!)
More Great Reading:
5 Questions to Ask Your Teen to Motivate Them Without Annoying Them