With 24 hour access, parents are able to talk to their college students constantly. This might not always be a good thing when their teen is miserable.
An unhappy college student might be a minor issue but a really unhappy college student can lead to some serious problems for your child as well as their future. Navigating this tense terrain can be very tough for parents. The most common question I hear from parents is, "How can I help my child? He (or she) is miserable and I really want to help." As a psychologist and life coach I understand that parents often don't know what to do. Here are some suggestions that have been successful.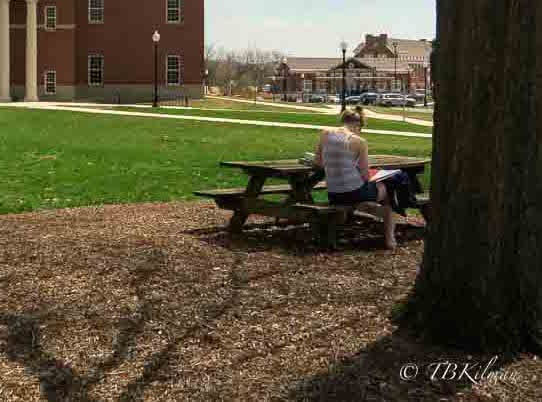 5 Ways that Parents Can Help Their Unhappy College Student
1) Take your teen's complaints with the awareness that they may just be unloading on you and will be fine in a few minutes.
College kids tend to call home when they are stressed and/or tired and thus you get the worst of them. They aren't going to call you when they are having fun. Also, because they are able to check in so readily you may hear from them more than once a week or even once a day.
Had I talked to my parents daily, they might have thought my college experience was a negative since, at any given moment, I was miserable. It was too hot on campus, too cold, too hard, my friends were mean, the food was bad, etc. My parents didn't hear these little moments of unhappiness because I didn't talk to them so frequently.
2) Ask your student if they need you to listen or to help them solve a problem.
There's a big difference. Often parents make the mistake of jumping in and trying to solve the problem. When you do that you may be giving your teen the impression that you don't think they can handle the situation at hand. When you ask them if they want you to listen or to help it gives them the message that you are there to support and not to fix. Also, kids will almost always say, "I just need you to listen." And once they get it off of their chests, they are fine. When I barge in with assistance prior to letting my kids just talk, they get very frustrated with me. I can't blame them; I often want the same thing from my husband or friends.
3) If your child just needs you to listen, then listen like this.
First, acknowledge what they are saying. For example you would say, "It sounds to me like you are really upset by your math grade and you are feeling unsure about your ability to raise your grade. Is that right?" Let your child respond and clarify their feelings while you fully listen.
Second, validate their feelings even if you disagree with their reaction. So you might say, "Who could blame you for being upset? Anyone in your position might feel that way." By doing this you are both hearing and not judging your child's feelings. You are giving them support without judgment. Who wouldn't want that?
Trust me, I use this with all three of my children and it's magic! Most of us want to be heard and understood and when you do this for your child it gives them the strength and confidence to go forward with challenges and frustrations.
4) On the other hand if your child says that they need your help, be careful to move in slowly and without taking over.
Don't do anything for your teen that they can do themselves. Instead offer options or suggestions and then let your student follow through on their own. Ask them open-ended, curious questions about possible solutions. Most of us have the tendency to say, "Here's what you need to do." But that may not be so helpful to your student and often they get frustrated when we do that. College students need to be able to handle the vast majority of problems that come their way. Parents should simply be support and guidance at this stage of the game unless it's a true emergency.
5) Finally, check your own reactions to your child's unhappiness.
You don't need to own their feelings. I know how difficult this is because when our children hurt, we hurt. However, if you take on their feelings you won't be able to support them to the best of your ability. Have faith that everything will work out (doesn't is always?) and support your teen with compassion and love but not ownership. Your ability to not overreact will help them when they are struggling. Also, if you get too upset it will worry your child even more. What they need from you is a calm, supportive voice to guide them through their concerns.
I frequently say to my children, "I have faith in you that you will figure this out. How can I support you?" Often, that's all they really need from me: support and love. Unhappy college students are not a new phenomenon but it seems to be one that parents are more involved in. A few carefully planned responses can help your teen solve their own problems and be happier in the long run. The icing on the cake is that you will be happier as well.
Lisa Kaplin is a psychologist and life coach at Smart Women Inspired Lives and mother of three.  She is a nationally recognized professional speaker on topics such as stress management, parenting, healthy communication, wellness, and women's leadership. She is also a blogger and has been featured on Yahoo, Thought Catalog, MSN, Lifetime Moms, Your Tango, and Psychology Today. She can be reached at  Lisa@smartwomeninspiredlives.com