Here are trendy gift ideas that will thrill your teens, college kids and young adults this holiday season.

We receive small amounts of compensation from purchases made through some of the links on this page.
Trendy Gift Ideas for the Holidays, 2018
Cuyana Leather Travel Case
This boutique site for women has some of the most gorgeous leather bags and knitwear we have seen anywhere. We are a little over the moon about the mini jewelry case that can be monogrammed as well as their small leather bags, all of which make fantastic gifts. Look at the Holiday 2018 gift collection for more ideas.

Harper Crossbody Bags
We cannot get enough of these super-cute crossbody bags that have just enough room for a phone, a lipstick and a few cards, which is all our daughters need in a purse. Well-priced, they come in nearly 20 different color combinations. Oprah picked these as one of her 2018 Favorites!

NuWave Brio Digital Air Fryer

Air frying food has become very popular with young adults who are looking for healthier preparations of some of their favorite foods. This brand gets the highest marks from Consumer Reports which recommends this model in a 3 Qtr capacity, an optimal size for smaller apartments.
Wake Up Alarm Clock Light
This alarm clock
by Phillips will gradually increase the light in your teen's room to simulate the sunrise during the thirty minutes before they need to get out of bed. It's also a bedside light – genius! this one is a top-rated model with lots of amazing features.
Wireless Earbuds
With bluetooth technology, these Enacfire earbuds eliminate the need to use wires to connect to a phone or source of music from as far away as 33 feet. They have HD stereo audio and produce at a sound output to recommended health standards. This is a hot new holiday gift for him this year.
Apple AirPods
If your teen or young adult has the latest iPhone (10 or later), they will love these wireless bluetooth Airpods to use with their phone.

Fire TV with Alexa Voice Remote

Your college student can watch live TV and hundreds of thousands of movies and TV episodes from Netflix, Hulu, HBO and more (subscriptions fees may apply) with the Fire TV. New – voice activated remote control with this just-released 4K model.
Moshi Touch Screen Gloves
Your teens do not want to have to take their gloves off to use their phones. Moshi gloves, which get top marks from the New York Times Wirecutter, have conductive fibers on all 10 fingertips, special gripping designs to keep phones from slipping out of hands into snowbanks, and are machine washable.
23andMe DNA Test
Is your teen or college kid interested in knowing more about their genetics? This kit is high on our list of trendy gift ideas for 2018.
Wacom Intuos Art Pen and Touch Tablet

For your budding digital artist, this screen with stylus is a designer's dream tablet.


Light Up Luminous Selfie Flashlight Case for iPhone X (other model sizes available)

For your selfie-loving teen, put this case on your list of holiday gifts.
Wireless Headphones
Bluetooth headphones have revolutionized how we listen to music while exercising. This set, by Plantronics, have a reflective finish and use technology to allow a runner to hear their surroundings – two safety features that seem very important to us. Plus, these got top marks by the NYTimes Wirecutter.
Chic Shoes
We have fallen in love with Margaux Shoes and bought the pumps and ballerina flats for ourselves last year. THIS season, the suede loafers and booties are our go-to shoes and we can't wait to give them to our daughters, too. With a comfortable heel height and cushioned interior, they are unbelievably comfortable, too. (A pair for her, a pair for you?)
Instant Cameras
Taking and printing out photos – instantly – with a Fujifilm Instax Mini 9, makes old school photography cool again. Cameras come in light blue, cobalt, flamingo pink, smokey white, and lime green. Comes with a selfie mirror and macro lens to allow for one-of-a-kind keepsake photos.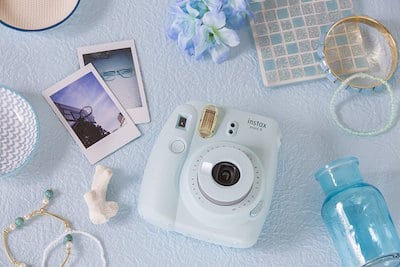 Portable Projector
A projector is one of our kids' very favorite dorm items, allowing him to gather a group to watch football games on Sunday, and much more.

Apple Watch Series 4
My daughter wears hers all the time and loves the fitness tracker functionality along with being able to keep tracks of texts and more on her wrist. With its incredible features, the Series 4 is way more than a watch and this model comes with a new, more powerful electrical heart sensor offering all kinds of health benefits.
Virtual Reality
This is the system to get for VR thrills.
Oculus Rift Virtual Reality System
Google Home Hub
Google has released a digital assistant with screen powered with Voice Match that allows Google Assistant to distinguish between your teen's voice and all others. Ask for reminders, activate playlists, stream music from a host of sources, call friends, and so much more.
Google Home Mini
Having a digital assistant to play music, provide a weather report and act as an alarm clock does not even begin to describe all that the Google Home Mini can do for your college kid or young adult.


JBL Flip 4 Waterproof Portable Bluetooth Speaker

This wireless speaker comes in loads of different colors and gets great reviews. This is a great one to put on your list of trendy gift ideas.


Simple Modern Stainless Steel Vacuum Insulated Bottle

Every student needs a water bottle and this one will keep cold things cold, or hot things hot, all day long.

Nintendo Switch

The best features of a home system are now also portable, with this use-at-home or go-anywhere device.


Nintendo Switch Super Mario Odyssey Edition
has even more of what your kid will love.


UE ROLL Wireless Portable Bluetooth Speaker

Wireless speakers are super-popular with college kids and teens. They can create a party with the powerful sound.


FlashForge 3D Printers, New Model: Finder

Curious about a 3D printer? Here's one to try.


Lapel Microphone

Is your kid making videos or podcasts? This clip-on lapel microphone will improve the sound quality of the finished product.

Polaroid Remote Control Camera Drone

Now you can take pictures and video from a bird's eye view with your very own drone.

Related Holiday Gift Lists, 2018
Awesome and Super-Popular 2018 Holiday Gifts for Him
2018 Holiday Gifts for Her That She Will Love
2018 Holiday Gifts for College Students They Will Use Every Day
Best Gift Ideas for the 2018 Holidays that are Just for Fun!
SaveSave
SaveSave
SaveSave
SaveSave
SaveSave
SaveSave
SaveSave
SaveSave
SaveSave
SaveSave
SaveSave
SaveSave
SaveSave
SaveSave
SaveSave
SaveSave
SaveSave
SaveSave
SaveSave
SaveSave
SaveSave
SaveSave
SaveSave
SaveSave
SaveSave
SaveSave
SaveSave
SaveSave
SaveSave
SaveSave
SaveSave
SaveSave
SaveSave