We are not dropping anyone off at college this year. This is the first year in a while that we aren't loading vehicles or moving vans. My two oldest sons have graduated from college and my youngest will be flying off in a few weeks for his second year of law school. He is staying in the apartment that we moved him into a year ago. I will help him pack a couple of big suitcases with his clothes and that'll be it. There are no dorm room furnishings to buy, no meal plans to decide upon, and not much for me to do.
There's also not a lot of advice left to give. As parents, we really don't ever stop giving advice and these days it's more about careers and "grown-up" life decisions. Often we're consulted but not always. They ask for our opinions and yes, sometimes we even offer these opinions before they've had a chance to ask. We're thoughtful like that.
I've written in the past about things to teach your children before they leave for college. This time of year I can't help but think of the parents sending their children off to college for the first time. It's an exciting, worrisome time. You've spent 18 years making sure they know how to survive on their own — everything from how to do laundry to what to do if they get sick.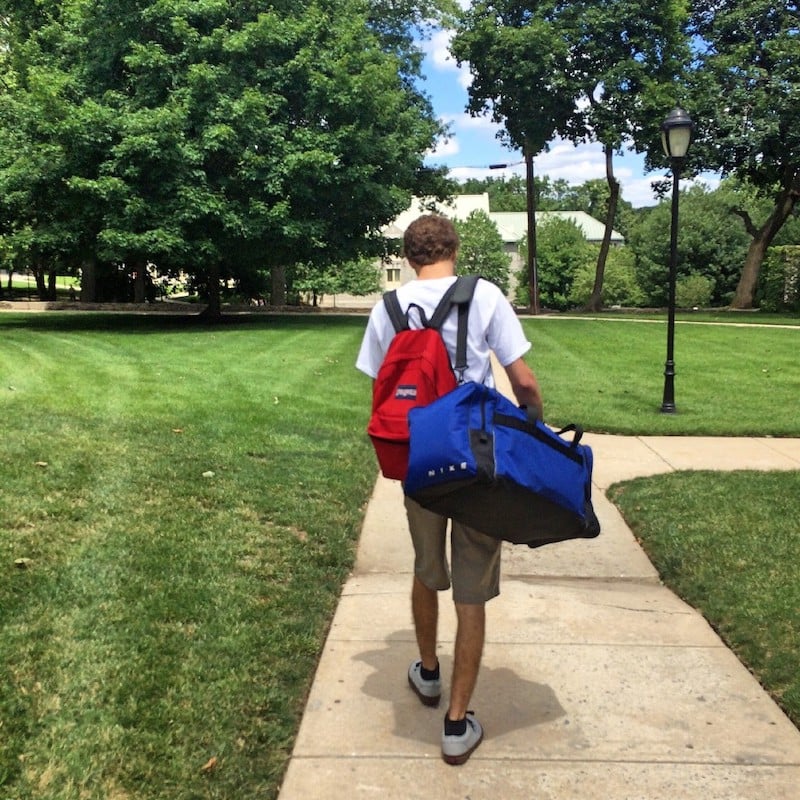 But there are a few things you should tell them that don't have a thing to do with basic daily living skills. Our kids are resourceful — they will figure out how to survive.
Heartfelt mom advice to give your teens before they leave for college
What they might need is some mom advice. The heartful stuff. This is what I would tell my sons at college drop off if I could rewind. . .
It's okay to miss home (and it's okay to miss us!). I hope you do miss us. I'm not wishing for missing-you-until-I-can't-function disabling homesickness. Just a pang or two of missing someone or something from home. (I think it was the dog for my sons!) It's a good sign that home is worth missing and you're looking forward to your next visit home.
Don't worry if you don't like things immediately. There are a lot of life changes going on here. Give yourself a chance to adjust. You can't sit back and not even try to like it (I don't think you will be doing that) but don't worry if it doesn't happen the first week. It will happen.
Loving your roommate is not necessary. Learning how to live with your roommate IS. Having a roommate who is also a good friend is fabulous but it doesn't always happen. Concentrate on respect and consideration and the relationship will fall into place.
Reach out with a quick call while you're walking to class. Or wherever you're going. It's the perfect time for a short visit and staying in touch this quick and easy way is a fabulous habit to have. For you and me. Think about this one. It's important. It's our interaction and support that grounds us. I know you're okay and you know we are always only a phone call away. There's an added plus: if you're calling me with these short frequent calls, I probably won't be calling you as much. This works.
Don't be worried if I cry. I may choke up and won't be able to say this when I am telling you goodbye, but I am proud of you and I love you. My tears do not mean that I want you to get back into the car. I don't. A few tears are a "Mom Thing." It's not the first time it's happened and it won't be the last. They're not sad tears. I'm excited for you. This. Is. The. Plan.
There's no one who wants you to succeed more than your dad and ME! We are here for you whether you need us or not. And that's the key to understanding what I really want you to know. It's okay not to need us. Just as long as you know it's also okay if you do.
You'll Also Love Reading: