I've spent a lot of time dating recently. Mom-friend dating, that is. My son will be two in August and I'm just starting to feel comfortable confronting complete strangers on playgrounds and striking up conversations. Work is a common talking point, and when I bring up my job, it always seems to garner sympathy from other moms.
"I'm a high school math teacher and girls' cross country coach."
"Wow. You work with high school kids?"
Their contorted facial expressions are always a nice mix of respect and disgust, like I volunteer to clean public bathrooms at the park in my spare time or something equally terrible.
"What a tough age, that must be miserable!"
I understand the stigma. For over a decade, I've been surrounded by teenagers as they prepare to leave their childhood homes and head off into the real world. It's a turbulent time for sure – after all, they're busy trying to figure out who they are and who they want to be, all while confronting social pressures, academic demands, and physical changes.
I've dealt with bits of the notorious teenager attitude, but by-and-large, my experience with high-school kids has been overwhelming positive. The reason? I think they save most of their fiery sass for you guys: their parents.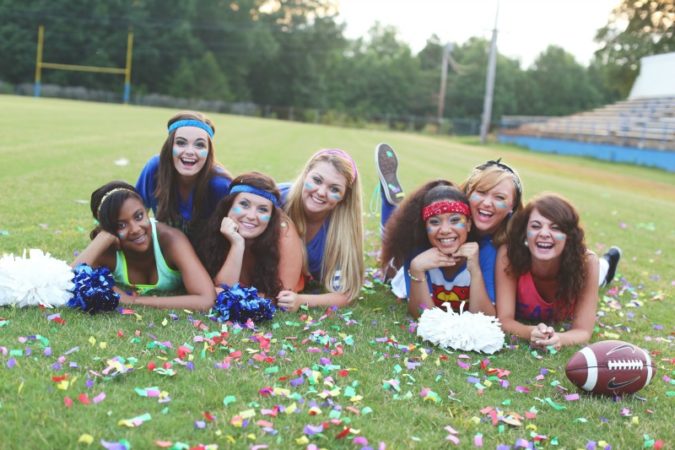 In my very limited experience, parenting is a ridiculously challenging job – a truth which I'm only beginning to fully appreciate now that I have my own child. And, the job changes over time, but doesn't seem to get easier.
At work, I've seen kids shout at their parents for the most minor things: taking too many pictures ("Stop embarrassing me!"), showing up to cheer them on at sports events ("It makes me nervous when you're here!"), and being even remotely involved in their academic life ("I don't need your help, I can do it myself!")
As a mom of a nearly two-year-old, who, mind you, can't even speak yet, I have a newfound respect for just how taxing it can be to deal with attitude on a day to day basis. I figured "crisis manager" would be one of the hats I'd have to wear as a parent, I just hadn't realized I'd be donning it multiple times a day. The difficult parts can sometimes overshadow the wonderful parts because I'm too close to the chaos to see clearly.
Older parents who don't have to handle all of the tough moments with my son often remind me to appreciate the amazing personality that my little man is developing. Their perspectives of my son – whether friends, family, or strangers – have helped me tremendously. So, as someone who doesn't have to experience the tough moments with your kids, let me tell you what I see.
What This High School Teacher Wants Parents to Know About Their Teens
I've seen high school kids pour their heart and energy into things that make them happy. I've seen them work ridiculously hard to achieve their goals. I've seen them genuinely support others, even when they're experiencing disappointment themselves.
I've witnessed maturity and self-awareness as they've grappled with change. I've watched them treat adults with respect and younger kids with pure kindness. I've seen them quit, and then I've seen them push on after finding an inner strength they didn't even know they had.
I've noticed them pick up after themselves without being told. I've watched them become leaders without the assignment of a title. I've seen them make the right choice, even when it was hard, and accept the repercussions with grace. I've received thoughtful notes and genuine thank yous, as well as heartfelt apologies. I've seen them be positive, encouraging, brave, and wise. Year after year, I get to watch teenagers grow up and become young adults.
I know it can't be easy to take the brunt of the attitude and share the wonderful parts of your kids with others, but as someone who is lucky enough to work with them, I just want to say thank you. At least once a year, I am moved to happy tears by something I've seen a teenager do.
Working with this age group has had a profound impact on my life. For starters, nothing sharpens your sense of humor like high school senior. They are constant reminders of how much growth can happen when you face your fears and embrace change.
They're so excited for the life that lies ahead of them and hearing about their dreams makes me want to chase my own even harder. I'm inspired to keep learning about myself and trying to be better because I see kids doing exactly that year after year.
My parenting journey is only just beginning, and at this rate, I'm sure I'll never run out of opportunities to grow because of it. I have no doubt it will continue to get harder and sweeter as my son gets older, but I'm so grateful for the perspective I've been given by working with high school students.
Honestly at this point, if I had to choose, I think that preschool teachers have the harder gig. They have to deal with diapers, too.
You Might Also Want to Read: 
Note to Self on Parenting Teens
10 Things About Leaving Home This College Mom of 5 Didn't Know
Jill Henry teaches math and coaches cross country running at the high school level. She is a New Hampshire native who has called Los Angeles home for the past eleven years. When she's not working, writing, or keeping her toddler alive, she's trail running with her husband, Dave. You can follow Jill on Instagram and find more of her work at www.twocoachhenrys.com.