When I started visiting colleges during high school, a lot of people kindly gave advice and suggested questions I should ask while on my tours. While this was very thoughtful, I didn't really understand what the questions (or answers) about roommates, dining halls, meal plans and housing would actually mean until I became a first year student.
While I am extremely happy at my school and, fortunately, things have gone well, off campus housing after freshman year is one subject I wish I had known more about while going on college visits.
At my school, a big state university, the majority of students only live on campus during freshman year. For me, this meant signing a lease for my second year of college two months into my first year. After being on my own at a new school for only two months, I had to decide who I wanted to live with, where I wanted to live and how much I wanted to pay; I was a little overwhelmed.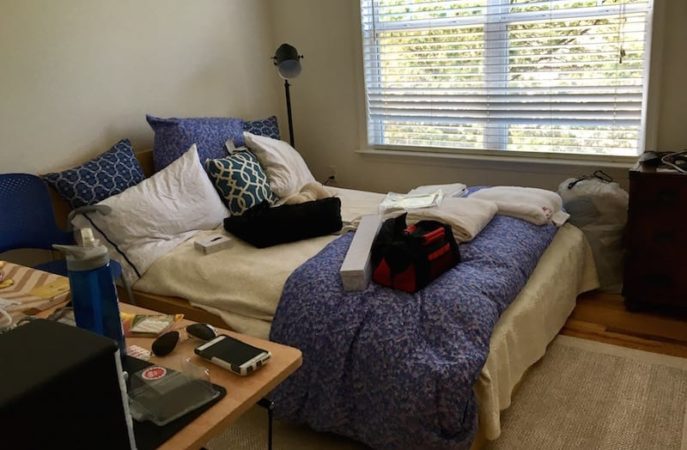 I talked to upperclassmen about places they recommended but it was hard for me to understand the pros and cons of different areas since I barely knew my way around the campus.
Looking back now, there are some questions I should have asked to be better prepared for this housing process. For instance, while the majority of students live in off campus housing, I could have chosen to live in some of the on-campus dorms or apartments offered. A benefit to on-campus housing is that the lease lasts the duration of the school year and most of the furniture is provided. If your hometown is far from your college and you don't want to deal with buying or shipping furniture, this is a very good option.
But if you plan to live off campus, it will take time to research the numerous housing options. Once you decide on a few apartments you're interested in, actually touring them is the first necessary step. All the pictures posted online by the rental agency are staged, with the apartments cleaned and lit to make them look their best, which is often not exactly how it will look while you're living there.
As you visit each apartment, think about your priorities for a space you will be calling home. Do you hate sharing a bathroom? Will you be more productive if you have your own bedroom? Will you be on a meal plan again? If not, is this kitchen big enough to let you enjoyably cook? Here are the six other things I recommend to research before you sign a lease:
7 Things to Think About When Looking at Off Campus Housing
1. Safety
Safety is a huge factor when living in off campus housing. When you go on a tour, you will see if a building requires a key to get in the first door and another to get in the specific apartment, or if it's just one door that separates you from the outside. This can change depending on what floor of the building you are living on.
The apartment I'm living in this year is on the 4th floor and requires an electronic entry key to get into the building and another one to get into my apartment. However, if you live on the ground floor in my building,  the door from apartments lead directly outside, so that first door doesn't really give you any extra protection.
There are many different styles of apartments so try to decide what works best for you, from a security standpoint, and makes you feel most comfortable.
2. Neighborhood
Another important part of safety is what the neighborhood is like and what is nearby. My apartment last year was in an area close to campus, which meant I was about a five-minute walk from class but, at night, there were fewer people around. Personally, I did not enjoy being alone in that area after dark because there were only a few street lamps and I rarely saw other students.
In contrast, this year, I am about 15 minutes from classes but in a much busier area. While I have to get up earlier for class, I am an easy walking distance to the CVS, restaurants and the majority of other student apartments. Because this is a more popular area, it's much louder than where I was last year, but I feel safer on better lit streets where there are always other students walking around at night.
While looking at apartments, ask yourself what your priorities are and what types of extracurriculars you enjoy.
Do you want to be close to the library so you can be more motivated to go there?
If you have a car, will you be driving yourself to visit friends, watch games or participate in other activities so walking in a darker, quieter area is less of a concern?
Do you need to be near restaurants because you hate cooking?
What will you be doing on the weekends and how will you be getting home?
Everyone has different priorities in college so try to make sure your living situation can best support your goals and needs.
3. Parking
While on your apartment tour, try to get a sense of the area and ask to see the available parking lots if you plan to have a car on campus. You'll need to ask if you have to pay for parking, if a certain number of spots are included in the lease, or if you can purchase a reserved spot. There are advantages to leasing a reserved spot as the hunt for parking on college campuses can get a little competitive and passive aggressive post-its on cars can abound.
I leased a reserved spot so I knew I could always park in a designated place in the lot of our apartment building. While it was more expensive, it gave my parents and me peace of mind since it was nearby, well-lit, and covered so I never had to dig my car out of the snow after several big storms.
4. Furniture
Before you buy any furniture, look at a floor plan of the apartment and get a sense of what you'll need to bring. Talk to your future roommates, parents, and siblings to see what you can pool in order to avoid unnecessary purchases.
See how much space you have and keep that in mind while deciding on bed type, size of desk and extra storage. Some apartment rental agencies may offer rental furniture, which could be appealing for students who don't want to buy furniture and/or pay for a storage unit over the summer.
5. Lease Details
Read your lease closely and see what all is included and what is not. Remember to factor in costs like cable, Internet, trash, utilities, parking and other expenses not included in the monthly rent. Look to see the specific dates of the lease as some may end in early June while others may last until August.
The lease term may also impact whether or not you're allowed to sublet your apartment for the summer or a semester, if you plan on studying abroad. Find out what extra fees the rental agency may also be charging you, especially if you want to try to sublet.
6. Renters Insurance
Does your lease require renters insurance and, if so, be prepared to act quickly to secure that as it might be a condition of acceptance of the lease agreement. Lemonade is inexpensive, easy and fast to sign up for.
7. Honesty
Lastly, I've found the most important thing about finding off campus housing is being honest about what you want. While it is easy to get caught up in the moment of signing a lease with your friends, it is crucial to think about what you really want. These conversations can be difficult, as you may need to talk about money or how often your future roommates party; however, it is necessary to have these important conversations before you agree to be roommates.
You have to think about your needs before signing a lease because, if you end up in an apartment you hate, it will be more detrimental to your friendships than any other conversation would be.
While I had to make all these decisions on my own because of how my school's housing works this is not always the case. If your school has requirements about living on-campus for a certain number of years you will have fewer decisions to make. If you go somewhere with a lottery system, some of these choices will already be made for you based on what is still available when you get to pick.
Wherever you end up, try to use the housing resources your school has, such as a Housing and Residence Life website or housing information sessions. Also talking to upperclassmen or your RA, can be extremely helpful as they have all gone through it and have plenty of horror stories or fun memories to share.
You Might Also Want to Read:
College Drop Off After Freshman Year 
Apartment Essentials: 40 Ways to Make Your Apartment Feel Like Home