On this day four years ago, I got the phone call every parent dreads most — my son, a thousand miles away at college, was involved in a serious accident. He had been driving a motorcycle I didn't know he owned, through the winding mountain roads of Pennsylvania when an elderly man in a pickup truck pulled out in front of him. The man never saw my son. Not until he was laid out in the road, bleeding and unable to move.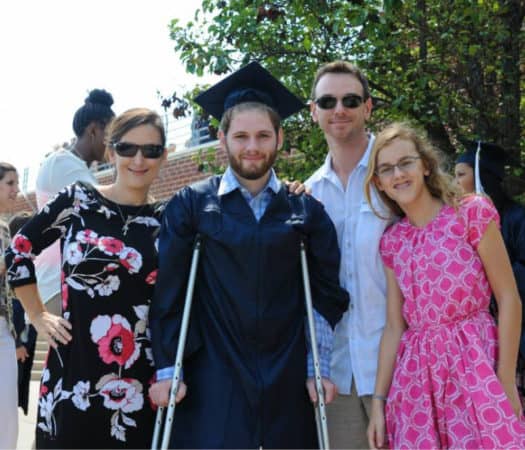 The kindness of a stranger saved my son's life
His helmet lay cracked and strewn in a ditch nearby. The kindness of a stranger saved his life. A man pulled over, blocked traffic with his car, dragged my son to the shoulder, then called for help.
My husband, teenage daughter, and I were having pizza at a restaurant in downtown St. Augustine, where we live, when we got the call. Jake was being medevacked to a nearby trauma center. We abandoned our meals, and walked hastily home, crying and shaking the entire way. I tried to get a flight out from any nearby airports. Nothing was available until the following morning. Jake had been through his first surgery and was stabilized. He would survive, but doctors weren't sure if he would walk again.
He had been in his final weeks of classes, commencement was just weeks away.
We never thought our son would graduate
Jake's college graduation wasn't something we'd ever imagined. In elementary school, the head of special education sat me down one afternoon during a conference and told me that my son would struggle to graduate high school and had no hopes of making it to college. His dyslexia was severe. He struggled to read, even grade levels below him, and spelling was out of the question.
We lowered the bar for him, believing what we were told. He grew up with few expectations of higher education. He was a hard worker and had many other exceptional qualities we fostered. He was a fantastic gardener and we had window sills and an attic full of sprouting seedlings in cold months. He adored animals and spending time with siblings. He was kind and had a light in him that shone brightly on all who knew him. Higher education wasn't everything.
After spending a month in the public education system that kept him separated in a classroom with children with severe special needs, we placed him in a small inexpensive private school. The public school had refused to consider inclusion, despite his IEP showing it wasn't necessary for him to separated from the mainstream. With a small class size, and individual attention from caring teachers in private school, Jake blossomed.
And now, here he was proving everyone wrong. He was so close to graduating from Penn State with a bachelor's degree. Only he wasn't. He was in a trauma center with over two dozen broken bones. It would take three surgeries, metal rods, plates, and cadaver bones to put him back together. Three months later in August, he would get to walk, or hobble, across that stage with crutches. A few months after that, Jake would take his first steps and I would cry, much like I did that first time he toddled across the living room of our first home.
Years later, he would go on to graduate with his master's degree from Erasmus University in the Netherlands. I would spend weeks that year, walking hundreds of miles across different European cities with him. Most days, with the exception of this one, I forget what could have been. There are days I forget to be thankful he is still here with us. Sometimes, I forget to count my blessings.

I have close friends who have lost their precious children — to acts of war, senseless violence, and pointless accidents. I think of them often and don't understand why their babies are gone while mine are still here. I can only hope to hold mine a little closer and teach them to spread their kindness to others.
Remember to count your blessings
The month leading up to Jake's accident, I had been in a deep state of grief. I'd lost my father, an Army veteran. The grief hit me unexpectedly and I couldn't find a way out of the darkness. My dad had been ill for a few months so it shouldn't have been a surprise, but unless you've lost a parent, you can't know what it feels like. My dad was gone, but my son was still alive. I kept saying it again and again on the flight to BWI and the long drive to the trauma center in Pennsylvania. My son was alive.
Life, I'm reminded, is like this — filled with tragedies and triumphs, trials and tribulations and so many remarkable memories. On days when my heart is about to burst with happiness, I'm going to remember the good and the bad but especially the bad. That way, I'll never again forget to count my blessings.
More Reading:
Tammy Harrow is a commercial photographer and freelance writer based in St. Augustine Florida. She recently finished her first novel and is currently writing a travel memoir. Every few months, she tries to visit a city or country in search of an interesting story to tell. Her articles and photos can be seen on MSNBC, CNN, National Geographic, Woman's Day magazine, Budget Travel, Social, Old City Life magazines, and Bacopa Literary Journal. Travel stories can be found on her site.