I saw a post on social media the other day asking moms of older kids if they're getting lots of extra sleep during the great stay-at-home when everything is cancelled.

In a word: "NO."
It is true that most of us don't have infants or toddlers getting us up at night, needing a feeding or a diaper change or a drink of water or reassurance that there is NO MONSTER under the bed. Instead, we have teenagers and college students and young adults, some of whom are sheltering at home in our homes and some of whom are sheltering in dorm rooms and apartments and houses miles or cities or states or even countries away.
Even if all our children are home with us, this isn't like Christmas, when we sleep the contented sleep of moms whose people are just down the hall and whose phones are off.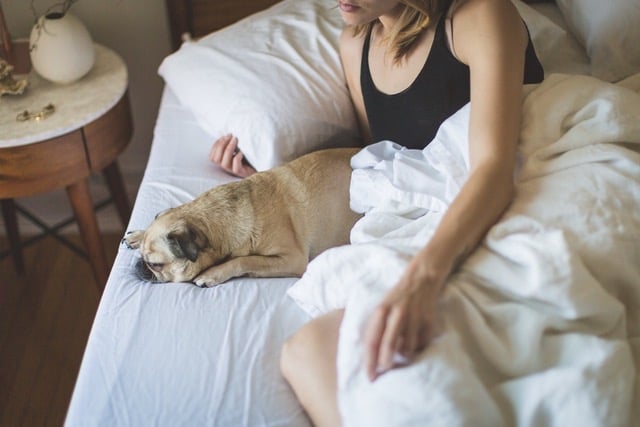 This is different.
Why it's so hard to sleep
We are not so much sleeping as we are worrying in a reclining position.
As it turns out, we've got lots of company in the momsomniac club. The other night, in the middle of the night, a mom in the Grown and Flown Parents group asked, "Is anybody else finding it difficult to sleep now with all that's going on?"—and a thousand-plus reactions and more than 600 responses pretty much came down to one unified answer: "yes."
We aren't sleeping because, among other distractions (hot flashes, kids up at all hours, generally out-of-whack body clocks), our thoughts are racing. Our minds buzz with questions we can't get answered during the day: how will we pay for college and what's happening with graduation and will we still have jobs to go back to after this is over and are our parents okay and is that sore throat just a sore throat or the start of something we've been trying to avoid all this time?
We can't get to sleep, or we can't stay asleep. We're becoming far too familiar with 3 a.m. We're exhausted but wide awake. We're watching Nexflix and Dallas reruns. We're tossing and turning or giving up and baking cookies or putting in an Amazon order. We can see who's online (and who responds to a post about not sleeping) and we see that we are joined by the sleepless in Seattle, Boston, New York and everywhere else.
We aren't sleeping because of what else we are.
We aren't sleeping because we are worried about our families' health and our finances and the children not under our roofs and other family members we can't see or check up on or help right now.
We aren't sleeping because we are sad. Sad at the "lasts" our high school and college seniors have missed and will miss. Sad that so many have lost loved ones. Sad that there's so little we can do to help at a time when the need is greater than ever.
We aren't sleeping because we are unsettled. We aren't sure when any semblance of "normal" life is going return, and even when it does, we're pretty sure it's going to be a new normal that will take some getting used to. But, we have no idea what that new normal looks like.
We aren't sleeping because we are taking all this worry and sadness and unsettledness to bed with us. If anything, the ceasing of whatever physical activity we found to do during the day signals our minds to kick into even higher gear.
But we are also not sleeping because of one, great, energizing truth: we are essential workers, all of us. In our homes, with our families, in so many ways it feels as though we have never been more essential. The jobs we have to do seem to matter more than ever before. Our positions are critical. These unprecedented hours in our nation and world can be some of our finest, but they are not only daylight hours.
Yet this is really not surprise because mom love always has been a 24/7 deal. So while we might be awake at 3 a.m. in part because our minds won't shut off, we know it's mostly because our hearts never do, either.
More to Read:
It's Hard to Find the Right Thing to Say So I'll Just Say "I'm So Sorry"
Graduation: Names Will Be Called, Diplomas Awarded, and Social Distance Observed, Another Brilliant Idea