God, it really is all about me now. Not in the self-serving, hey guess what I am doing way, but rather, in a very different and often poignant way. My daughter (my only) and I had many different roles in our lives as she grew from the tiny girl who didn't get the part of Cinderella in her kindergarten play (she was a mouse) to the graceful young woman she became. Along the way, she ran a lot, sometimes on the track and many times from me. She studied a lot.
I watched her from my studio. We didn't have a set routine; our life was an evolving canvas-sometimes a sweet Renoir and sometimes more of a Jackson Pollock. Never boring. While I've always had many interests- writing, painting, as well as a lengthy career – she was always in the center of my mind. My daughter.
But let's get back to me because now, for better or worse, it really is all about me.
I have no excuses not to be the person I always wanted to be. Productive (but relaxed), exercising wildly (and actually liking it), eating healthy every night (well almost), painting with intent. Seems easy but…I miss my daughter. I miss her footfall in the hallway before she bounces into the kitchen and drops all her stuff. I miss finding her in my bed sleeping at 4:30 in the afternoon with a half filled Starbucks on the nightstand. I miss her giving me a purpose I really loved.
At 18, my purpose was college. At 22, it a was career. By 30, I was breaking through a glass ceiling. Yet at 40, my life changed. She was born. My purpose was clear. You would think I would be used to adapting to a new purpose, wouldn't you? I'm not. As I face time to myself, something I used to crave, I find myself longing for someone to tell me what to do. My closets are clean, my studio is spotless, and my garden is weeded. But I know there is more ahead.
I am so used to being productive that the luxury of concentrating on myself feels like a yoke. Yet here's a thought; maybe I could view that yoke as a necklace, a string of different beads each holding a unique and different opportunity.
When it's all about me, I no longer have the burden of being successful. Failure can be good. Just trying things is the key. And unlike before, there is no single focus. Yet this just adds to the adventure. I know there are tons of us on this road. I am not alone. It's fun journeying with no set destination–twisting, meandering, full of surprise. The road is unpaved and I'm thinking the views could be breathtaking. Anyone care to join me?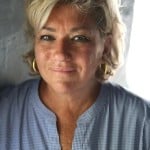 Catherine Donovan is a mother, painter, graphic designer and contributing writer to several blogs. She writes about topics relevant to the women of the mid-life generation. Catherine has written three children's books and is working on a fourth. After a successful career in advertising for 25 years, she also owned a confection company, Milton Point Sweets, whose cookies were featured on The Today Show. Catherine now concentrates on her writing and is a Masters of Fine Arts candidate at Sarah Lawrence College in creative non-fiction. Her daughter is a recent college graduate.