Prior to the whirlwind of two daughters, we kept an orderly home. Shoes sat parallel by the door, kitchen counters sparkled, and glasses regularly rotated into the dishwasher. After having two children, toys, sippy cups, and laundry spilled everywhere. Regardless of my efforts, the house was a wreck.
"Don't worry about it." advised my friend. "No matter what I do, it looks like a bomb exploded," I sighed. "As soon as I get the kitchen picked up, I look around and the family room is a disaster."
"It won't last forever. Someday you will have a clean house again."
Well, my friends, that day is now.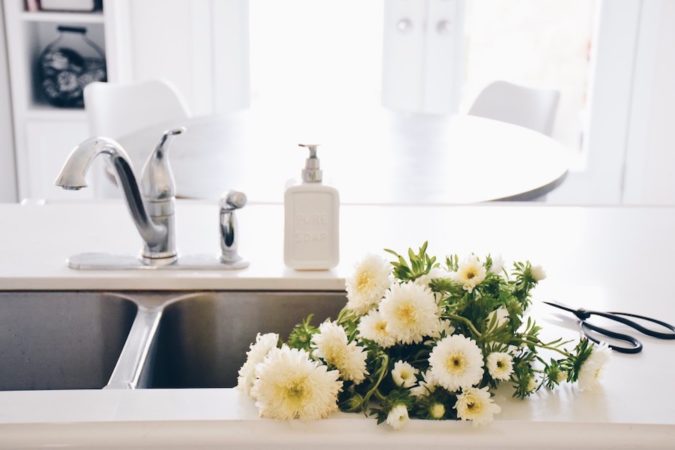 My oldest daughter, a college graduate, left for Chicago this week. She sailed out of the house, shouting "GOODBYE, GOODBYE!" at the top of her lungs. My youngest daughter returned to college this week as well. Unlike my oldest, who has permanently moved away, my youngest will still come home for breaks. But for now, she has departed, cramming her piles of clothes, bedding, and grocery bags into our old Toyota. Soon after I waved goodbye, I marched upstairs with paper towels, and trash bags, a half smile emerging on my tear-strewn face.
I spend that morning cleaning up my oldest daughter's room. Grant you, she was supposed to do that, and also grant you, she did some. But a 56-year-old mother's version of a clean room is entirely different from a 22-year old's.
The Ten Things I Found in My Daughter's Messy Room
Four half-filled missing glasses on her antique wooden bureau, none of which sat on a coaster. Also, a bowl that possibly contained cereal, and 2 crusty spoons.
The teeth-whitening strips that we bought her, unopened, and chucked under the bed.
A humidifier full of suspiciously brown water.
Tap shoes, ballet shoes, character shoes, and 12 tee shirts from every drama production done in her high school.
A complete collection of William Shakespeare.
A complete collection of Harry Potter.
 Two not-inexpensive prom dresses, each worn exactly once.
One pink sneaker. Not two; just one.
The following note, scribbled on a shelf, inside her closet. This note is approximately seven years old, written in careful but defiant adolescent script. The complaint was covered over by 11 scarves, which, once removed, revealed the following: "What are they even expecting? I'm a teen. I'm more worried about my cell phone than my next math quiz. I'm not going to pause my social life for a pointless test that I won't even remember in a year." (For the record, my daughter was good at math, clearly despite herself).
Most touchingly, one toddler's 18-inch-long hair barrette, purple. It used to sparkle, but that was two decades ago, when my daughter wore it to day care. Since then, the barrette has languished, abandoned, under the dark cavern of her bed, huddled near the teeth-whitening strips.
By the end of the day, this room lay clean and neat. The wood of her desk gleamed from lemon Pledge. Her book shelves were dust free. I could now see under that bed. The room sparkled.
My House is Tidy, Again
I'm not saying that having a clean house makes up for my daughters' leaving. I miss them every day. I miss hearing them, the simple, familiar patter of their voices. I miss my girls' spontaneous dances after dinner, arms up, hips swaying, when they are supposed to be washing the dishes. Even our dog is in a bit of a depression, sleeping more, and protesting by lying down during walks. The house is quieter, more sedate, less lively.
Still, my heart swells to walk into my house and have everything exactly where I left it. It is a joy to have a guest room which doesn't bring a flush of shame to my face. My husband and I return home every day, and exclaim, "Look, it's so clean!"
Behold the hallway, with only two pairs of neatly aligned shoes! Behold the kitchen counter, free of dirty dishes, gleaming in the sunlight! Behold the dining room table. Who has even seen the dining room table, underneath the boxes, sheets, and laundry? I almost forgot we had one. But look, there it is!
And if you need a place to stay, come visit. We are a little lonely. It's just my husband, me, and the dog, for a while anyway, and we would love some company. Rest assured; our new super-clean guest room is open and ready.
You'll Also Love Reading:
Your Kid's Off to College and You're a Mess. This is When You'll Be OK Again
Dr. Deguire is a clinical psychologist in private practice. She attended Tufts University, graduating in 1985, Summa Cum Laude, Phi Beta Kappa. She earned her doctorate in clinical psychology from Widener University in 1990. Today she is a psychologist, author, speaker ,and blogger. You can find her website and blog at https://www.lisedeguire.com; on twitter (@DrLiseDeguire), Facebook, Instagram (drlisedeguire6 )and Linkedin (DrLiseDeguire). She is the proud mother of two daughters, ages 22 and 20. Dr. Deguire's work has previously been featured on Medium.com and Grown and Flown.