Life is short, hence the bucket list. The years our children live in our homes are even shorter, thus, here are 18 bucket list ideas for parents, year-by-year. When we are young it feels as though we have forever, but once we have children, it soon becomes clear that we do not.
The Sunday morning my eldest son was one week old my husband turned to me in amazement and said, "He is 1/52 of the way to his first birthday, how did that happen?" It is a question that I have never been able to answer.
Childhood is fleeting and if you miss these buckets, with one for each year of childhood, the chance may disappear forever.
1-year-old. Video that laugh, again and again.
The reason that videos of babies laughing go viral on YouTube is a that the sound of an infant's joys stirs us someplace deep in our souls. So get that peek-a-boo giggle, or as in one video with 74 millions views, just rip a piece of paper or make a funny face. As parents, we all hope our children's lives will be filled with laughter, but there no sound quite like a nine-month-old laughing, be sure to capture it.
2-year-old. Your kid needs some wheels.
While pedaling a tricycle might come later, there is nothing, I repeat nothing, cuter than a two-year-old on her own little scoot bike. The battle against the omnipresent screen needs to start early and kids will spend endless hours on an indoor/outdoor little bike. Radio Flyer Scoot-About
 looks like something straight out of the 1950s, it may be the anti-iPad.
3-year-old. It's old fashioned, but start marking up your wall.
Kids grow faster than any of us can imagine and the height lines on the wall (or if you are worried about painting or moving, on a special chart) is a way for them to visualize the amazing transformation in their bodies. While you are at it, make a set of foot and hand prints in concrete or ceramics. Nothing makes a six-year-old feel more grown up than to try and fit her own "big" hand into her tiny hand print.
4-year-old. Celebrate nursery school graduation.
Moving on to elementary school is a big step in life and it is time to show our kids that we rejoice in their milestones, even if it's just a with few friends and some cupcakes. It is never too early to teach kids the importance of families celebrating each others' accomplishments and transitions.
5-year-old. Take a photo of the first day of kindergarten and then every other first day of school.
It will make a great page in the senior high school yearbook or on your wall. Do not miss this year, you will never get a do over.
6-year-old. Teach your kids about your family's favorite sports team.
Teach them the colors, chants and who the arch rivals are. Loyalties to high school, college or professional teams are tribal and, now at the age of six, they are primed for brainwashing into your family's tribe. Get them the T-Shirt or the baseball cap, sit them down in front of the TV with you and you will have a lifetime diehard fan, and a lifetime of shared enjoyment.
7-year-old. Your child might be ready (this year, next or the one after) for one of the greatest joys of a 21st century childhood: Harry Potter.
Once you open that magic book you will be laying the groundwork for a lifetime of reading enjoyment. Feel like you live in the car, always driving from here to there? The books on tape were so good that when we would arrive back home, my sons would sit in the car in the garage to hear the end of the chapter.
8-year-old. It is time to go traveling.
This is the year to get up and go, really go, and visit someplace different or challenging. The year your youngest reaches eight, your family is ready to travel and the memories will be forever. Eight-year-olds can ski and climb, have reasonable attention spans for museums and the stamina to explore new cities and are flexible about eating and sleeping. Eight-years-old is a perfect moment to broaden horizons and find new interests. It is the moment to get on the plane, train or in the car and go.
9-year-old. Get the family pet.
A nine-year-old is perfectly capable of caring for a dog or other pet and if you get that dog now, you child may have a decade of companionship or more with who will certainly be one of his very best friends. The love between kids and their pets is a lifelong gift we can give our children and this is the moment to bestow it.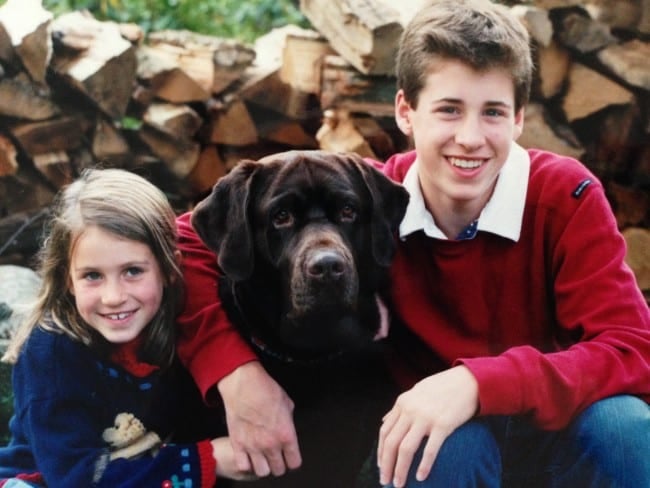 10-year-old. Capture that look forever.
Take a professional (or a really good amateur) portrait photo before childhood fades from their faces. Before the acne and braces appear, before the roundness is sanded away and replaced by sharp angular planes, capture the traces of the baby, toddler and child that still cling to his face. Get someone who knows their way around a long lens to capture your children's likeness before the adult emerges. But make sure it is not you or the other parent behind the camera as you need to stay in the some of the pictures. Few things give us more happiness in years to come than gorgeous photos of our children.
11-year-old. Host that one big sleepover party that will make you realize that you are never having a sleepover party again.
Go all out, with mountains of midnight snacks, pre-screened movies on demand, and more kids than you would ever hope to have in your home at one time. Realize you will not get any sleep, that there might be arguments and tears, that someone will put music on at 2 am and the dancing will begin. Give yourself over to this one night of preteen madness and then check this off your list. Your child will reminisce forever about the events of this night and you can remind them of its insanity when you say "no" to ever doing this again.
12-year-old. Find a family cause.
Nothing wards off raising entitled, self-absorbed kids faster that teaching them to care about someone or something other than themselves. It might be helping to raise money to find a cure for a disease, an animal shelter, a program helping families locally or overseas or a cultural/educational institution but find something that everyone in your family cares about and is committed to support. Then make sure that your family, including your preteen, gives time and money to learning more about the cause and truly giving of themselves. Philanthropic habits are just that, habits, and they need to be established early.
13-year-old. Go shopping for your child's first really grown-up outfit.
If your child is going to bar or bat mitzvahs or attending weddings or graduations, they can no longer get away with dressing like a kid. It is time for a real evening dress, maybe a bit of a heel, and a suit for boys. This not just a moment of unbridled consumerism, but a chance to acknowledge that you no longer look upon your daughter as a child.
14-year-old. Help your teen "find their constant."
High school, and later college, can at times seem overwhelming. Kids need a refuge from the social or academic pressures they may feel. Make sure as they start high school that they have a constant, something they love and that provides them with an escape and a chance to refresh. For some high schoolers it might be music (either listening or playing) for others it can be sports, art, theatre, reading, nature or, dare I say, video games. Make sure they have that safe activity (their constant) that allows them to blow off steam, decompress and just, however briefly, get away from it all.
15-year-old. It only becomes clear afterwards that fifteen is the last year our kids are truly ours.
Once they get behind the wheel of a car, immerse themselves in their life in high school they begin the long drift away. Soon there will be more nights when they come home very late and you can barely hold your head up or they will sleep over at friends or stay up doing homework longer than you can. This is the year make sure that you sit down by the side of their bed and talk about anything and nothing because in a moment of sleepy vulnerability real feelings and thoughts emerge. Take these moments, right before they go to sleep, because they connect you to the parent you were a decade and a half ago who set this child into her crib every night.
16-year-old. Take a road trip!
Your sixteen-year-old is in possession of a newly minted driver's licence and you know they need lots of road experience and that good driving comes from hours spent behind the wheel. You can hope to squeeze in 20 minutes here and 20 minutes there around the neighborhood or you can get serious about getting those hours and making some memories. Find a journey that involves highways, hills, dirt roads and windy roads and snow if you can find it and teach your teen how to really drive and what a little parent and teen time is all about.
17-year-old. College visits are going to get dreary pretty fast.
They will all fade into one another and at some point neither you nor your teen will remember what happened, at which campus or when. So plan one special, splurge activity that your teen will enjoy and treasure. Make it something that will bring a smile to a tired stressed out seventeen-year-old and make a lasting memories of these trips in search of your child's future.
18-year-old. It is time of have some adult talk.
It is time to tell them of any family secrets, both good and bad. Recognize that you are speaking to a near-adult and talk to them about what you feel is important in life, things you might not have shared with a child. Tell them what you have learned about parenting and marriage and friendship. Tell them about the triumphs and failures in your career. Tell of your regrets and of the defining moments in your life. This is the opportunity to discuss the really big things in life, even though at times it may not seem as though they are listening.
This conversation, like good photographs, marks on the wall, that trip you dragged them on when they were eight and so much about parenting, is not about today or tomorrow, but about the future we have been preparing them for 18 years.