I entered my daughter's kitchen wearing her Victoria Secret's Christmas night shirt with the words OPEN ME embalmed in gold scribbled across my chest. My hair pointed in all directions and dried drool crusted white remained on the side of my mouth.
My husband followed mostly dressed, with the exception of his pants, which he carried in his hand. Wearing sneakers, t-shirt, baseball cap, he looked like he was ready for a workout at the gym. The shortest day of the year, winter solstice, and we were about to leave her condo, a stopping point on our way south, to begin our fifteen hour trip to Florida. After grabbing a cup of coffee in the kitchen, we planned to finish dressing and be on our way.
Our daughter's boyfriend surprised us
But as we turned the corner, seated at the kitchen table on that dark 4 am morning was the steady boyfriend of many years, sipping, no gulping, a bottle of water. Squeezing the plastic bottle in and out like it was a rubber ball, he simultaneously swiveled on the bar stool. Why was he up so early on a Saturday? "Did we wake you? " He was dressed in his work clothes, so was he on his way to the office?
We started hearing about this boy from the her dormitory her second year of college, this boy who was writing on her Facebook wall, this boy who was calling her, this boy –Andrew. A date, a ski trip, and soon a couple; football games, parties, the years flew at Penn State. A graduation, then a break up, together again, and another graduation, and our daughter was off to DC for a career with Andrew soon to follow.
The sole light in the kitchen seem to spotlight him as if were a jittery actor on a stage, ready to deliver his lines to the awaiting audience. After a few minutes of chit chat and one more guzzle of water, he looked at us both. "Ummm, I have a question to ask you two. I am asking, wondering, if I can marry your daughter."
Well, this was not the champagne toast I had imagined. We were supposed to be at a secret dinner, just the three of us, celebrating this happy occasion, giving him permission to marry our only child, eating steak and drinking flutes of the bubbly as we listened to the plans for the upcoming proposal. We would be dressed in formal attire, enjoying our meal, delighted to have such a fine future son-in-law; we would finish our evening with tiramisu and return home with a promise not to breathe a word to our daughter.
So, here we were, basically in our underwear and pajamas, barely awake, answering the call. But it was no less joyous, no less of a celebration. After many hugs and several peeks at the engagement ring, we were in the car on our way south, happy for what was to come.
Our daughter said "yes" and we all toasted
We knew our daughter would say yes, which she did, later that afternoon, to a stunning Princess Diana type engagement ring, encased in a tan velvet box surrounded in red rose petals. What followed that evening was a romantic dinner for two at a fine seafood restaurant, with a Cava toast; the meal ended with a triple layered chocolate cake topped with the words congratulations written within the outline of a heart. Once home they announced their engagement through social media, and responded to congratulatory texts through the night.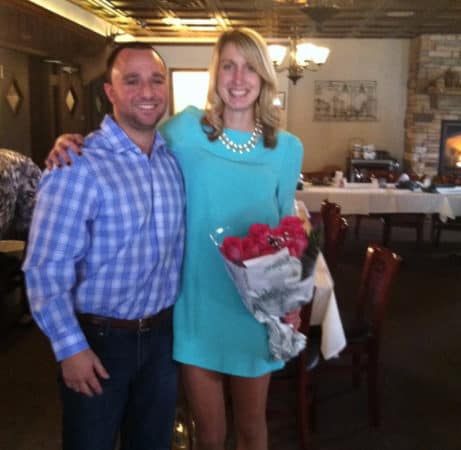 I remember a picture I took of her at age five, dressed in a full-length child's bridal gown with veil covering her face, her Halloween costume that year, worn over her purple winter coat because of the cold evening temperatures for the trick or treaters. The tiny bride stood next to her father, who was dressed in coveralls and boots, leaning against the pile of wood he had just split, eager to head out to the neighborhood. We were her world, just mom and dad, spending all our time together. We never imagining that one day she would leave our family triangle, to truly be a bride, whisked off to another state, to begin her own life–the three of us not spending each day together, her not needing us as much, her focus centered elsewhere.
Will you marry me? Four simple words, 14 letters –- And life changed forever in one breath.
Ann Hultberg of Western PA and Southwest Fla is a retired high school English teacher and currently an adjunct composition instructor at the local university. She writes nonfiction stories about her family, especially focusing on her father's escape from Budapest, Hungary, to the United States. Her essays have been accepted by over a dozen magazines and journals including Persimmon Tree, Drunk Monkeys, Thorn Literary Magazine, Her View from Home, Moonchild, and Mothers Always Write. You can follow Ann on Facebook at 60 and writing.
You Might Also Enjoy:
The First 25 Years are the Hardest