As the waitress slipped the huge piece of chocolate cake across the table, the candle that she'd added illuminated my son's face. With a big smile, he listened as we sang "Happy Birthday" to him and he eagerly tucked into the cake when we were finished. He joked that he'd probably need to order another slice because, when you are a newly minted sixteen-year-old boy, you can eat an entire cake in one sitting.
Watching my son, I started to cry
I watched him giggle with his sister and answer questions about his day from his father. His lanky frame seemed to be crammed into the corner of the wooden booth of the old farmhouse restaurant we've gone to since he was a toddler. I looked at his red hoodie and the day old stubble on his chin and, unexpectedly, I started to cry.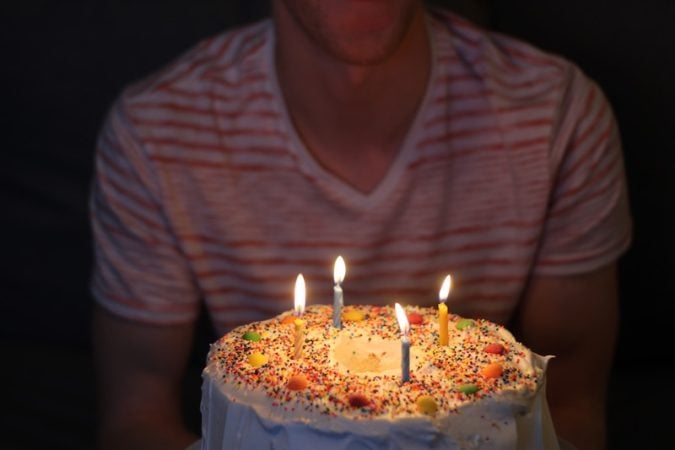 And not the kind of tears where you discretely dab your eyes with your napkin, smile and say, "Oh, I'm fine. It's just my pesky contact again."
No, I ugly cried right there in the middle of the restaurant.
The cake he was eating blurred behind my wall of tears and, as I gulped heaving sobs at the table, my husband took my hand.
Sixteen is a game changer
His eyes met mine and the unspoken words between us were clear: sixteen is a game changer of a birthday.
Sixteen means there are only a few more years until our son is going to leave home.
As I tried to gain control of my emotions, I felt an ache in my chest and when my son threw his gangly arm around my shoulders to console me, it was all I could do not to sob into his hoodie.
My mind knows that we spend our days raising our kids to leave us.
But my heart isn't going to survive the actual leaving part, I fear, because I didn't expect to feel gut punched by my firstborn child's sixteenth birthday.
In the 80s movies of my youth, parents of sixteen year olds were excited, oblivious almost, about the fact that their children had hit such milestone birthdays.
In fact, Samantha's parents in Sixteen Candles even forgot about her birthday.
But, last night, as I looked at my son as he beamed over his cake, there's no way I could forget what sixteen brings to our lives.
This is sixteen
Sixteen is AP classes that make you worry about your son's emotional health as he navigates the stress of it all.
Sixteen is "Hey, Ma, can I drive to school tomorrow?" after holding a driver's permit for less than 24 hours.
Sixteen is college visits and the realization that there are only two more first days of school left.
Sixteen is size 14 shoes that litter your mudroom and a bedroom that looks like a mattress exploded. Until his girlfriend is coming over, of course. Sixteen becomes "This place is a mess can we please clean up before she gets here?"
Sixteen is braces that reveal a grown up smile and finally getting the hang of the whole shaving regularly thing.
Sixteen is realizing that gas money actually doesn't grow on trees and asking your parents sheepishly for rides because your gas fund is low.
Sixteen is car insurance and updated registrations, driver's tests and first time license photos.
Sixteen is watching the car pulling out of the driveway and praying that the other drivers on the road will keep your precious cargo safe. And that he'll do the same for them.
Sixteen is discussions about future plans and narrowing down a college major. And holding your tongue when your son says he wants to pursue colleges that are clear across the country.
Sixteen is an empty passenger seat, one that used to be filled with the teen who grunted answers about his day on the way home from school. The car seems so quiet these days.
Sixteen is learning to do laundry and to speak up for yourself in the classroom.
Sixteen is glimpses of the little boy who sat in a high chair with a face smeared with pureed carrots. And the realization that your heart feels heavy when his bed is empty at night while he's out with his friends. Cribs kept your babies safe and under your roof.
Sixteen is both of you letting go, bit by bit, as you prepare for the inevitable goodbye in the dorm room that will cost more than you made in a year at your first job.
Sixteen is reminiscing about your own teenage years, driving around town with your best friend in a little red two door Saturn. And hoping like hell that he'll look back on sixteen as fondly as you do, break ups, heartaches and wasted opportunities and all.
My son is sixteen and, though I've had sixteen years to prepare for these moments, I didn't expect to be so sad as we near the finish line of his high school years. I didn't expect to love sixteen as much as I do. As he shares his birthday cake with me with a wink, I am grateful that I know how sweet sixteen really is.
Read More:
If your last child is leaving, you'll want to read this piece Your Last Child Is Leaving the Nest: What Else Is New?
Read this lyrical post about the gradual letting go process in Losing My Marbles, One Day At A Time