If you follow parenting blogs, chances are you know Jill Smokler, the powerhouse behind the popular parenting website Scary Mommy. Smokler started the media empire ten years ago, as she tells it, from her bed as she was navigating the waters of raising three small children. "I found myself looking for a village of moms who were like me," she tells Grown and Flown. "When you become a parent, you find yourself surrounded by women who all basically had sex around the same time and were thrown into parenthood on the same time frame. But, I still found it hard to find moms who were like me."
Smokler founded Scary Mommy, a website with the tagline, "Parenting doesn't have to be perfect." For a decade, along with her dedicated team, she turned an innocent online baby chronical written exclusively by Smokler into a massive vibrant community of millions of parents. Smokler announced her departure from Scary Mommy in the spring of 2018, leaving behind a legacy of thousands of posts written by hundreds of parent writers from across the country.
Recently, Smokler spoke with Grown and Flown from her newly renovated home about raising her three kids, ages 10, 12 and 14, her guilty pleasures and what's in store for her in life after Scary Mommy.
When asked about her biggest parenting challenge now that her kids are crossing over into the teen years, Smokler laughed. "I think it's probably trying to convince them that I still know what I'm talking about," she joked. On a more serious note,  she told me she misses the physical aspect of having babies and toddlers. "When they were little, they wanted to hold my hand or jump into my arms or sit on my lap. There was a physical aspect of parenting that I found reassuring because touch is so important to me." And, her Mother's Day request was simple: hugs. "I just wanted them to let me hold them and hug them," she says. She reported that, thankfully, her kids all complied.
Smokler says that working in an industry where her personal details and anecdotes became the lifeblood of her company was easier when her kids were small. While she never divulged information that betrayed her children, she says that her teens now see everything she does online and she's sensitive to their privacy. "My life is fair game but I will protect their privacy always." Smokler tells Grown and Flown that she runs ideas by her kids and though she's been open about her divorce last year and online dating hell, she is always careful to remember that her kids didn't ask for a life lived on display for the public.
And, she's had to make adjustments in how she approaches her teens and their drama, especially with her daughter. "I have to remind myself not to revert back to being a 14-year-old girl when I hear a door slam or when one of them makes a nasty comment," she laughs. She says that watching their kids go through the teen years brings back her own adolescent behaviors and she finds herself having to hold her tongue, literally. "It's hard not to stick out your tongue or hold grudges when your teen is being ridiculous." We agree, 100%, Jill.
Smokler has found that the secret to finding common ground with her kids is to do things on their timeline, not hers. "If I plan a fun afternoon on my agenda, my kids aren't into it or they think my plans are silly," she says. But, when her daughter starts talking about a problem late at night in the laundry room or her son is fascinated by a topic when she least expects it, Smokler has learned to roll with it. "Sometimes, you have to just go to bed later than expected when your teen starts talking later at night. You have to grab the moments when they happen."
As her kids have grown and the prospect of the high school and college years are on her mind, Smokler says she worries now, more than ever, about the choices other people make around her kids. "I worry about the driver who makes a bad choice while my kid is behind the wheel of his car," she muses. And, Smokler says, she has had conversations with them about dating and the realities of long term relationships early on in high school and college. She also jokes that she secretly hopes that they aren't accepted to college so they won't actually move away from home. "I'm so not ready to face my kids leaving," she says.
Though she's not ready for her kids to fly the nest just yet, Smokler does relish the time when her kids are out of the house on a Friday night. Because her kids give her a hard time about listening to the music she loves and they roll their eyes when she uses her noise reduction headphones, she delights in escaping into her favorite Broadway tunes without interruption when she's alone. And, she unabashedly climbs into bed and eats ice cream to her heart's content.
While parenting teens has presented its challenges in the last few years, Smokler says there's not much she'd change. Well, except for the towel situation in their house. "I wish that I'd taught my kids that towels aren't disposable and that I'm not running a hotel with fresh, fluffy linens provided daily," she laughs.  And Smokler says she should have stopped her short order kitchen skills a long time ago, too. Same, Jill. Same.
As for her post Scary Mommy life and what the future holds, Smokler is exploring her options. "I want to find people who are like me, again. Women who are in the second act of their lives and who want to connect about life after raising kids, divorce and other life changes." Whatever she has in store for us, we know it will be scary amazing.
To stay up to date on Jill Smokler's new projects, sign up for her newsletter by entering your email in the space below.
Don't miss a single announcement!
Related:
21 Things You'll Love About The Empty Nest
How To Stay Close as a Family Over Time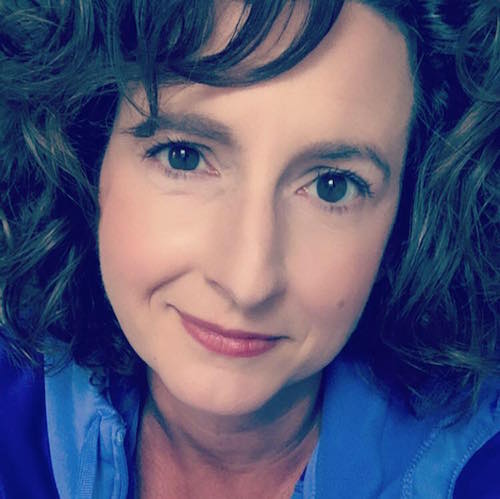 Christine Burke is the owner of the popular parenting blog, keeperofthefruitloops.com. In her spare time, she runs marathons, collects thrift shop finds and eats ice cream like it's her job. Her work has been featured on the Today Show, the Today Parenting Team, Scary Mommy and other parenting websites. In her current role as Assistant Editor of Grown and Flown, she writes about the realities of soon sending her not so little anymore kids off to college and prays she doesn't use too many comma splices in the process.