This past summer, our eldest daughter got married. As a rule, I'm not particularly detail-oriented, and my organizational skills can best be described as, "It was here just a second ago." But because my daughter and her fiance wanted their wedding reception at our family farm, I had to dig deep and discover my inner wedding planner.
Luckily, everything I lack in skill, style, and efficiency, my daughter has in spades. Still, when it came down to it, I held my own, and together, we pulled off one of our most special and fun events. And while I'm certainly not ready to hang out my shingle as a wedding planner, I have a few practical and personal tips for anyone helping their daughter plan her big day.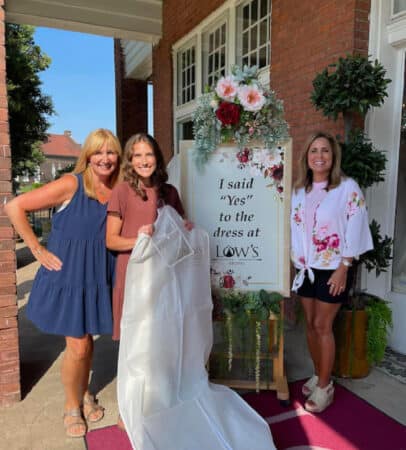 11 Tips for Planning a Wedding
1. Know who's taking the lead
When I got married, my mother took care of everything. Of course, I had specific ideas and opinions, but my mother was in charge when it came to ironing out the details and putting plans in motion. But from the moment she got engaged, my daughter took control of planning, researching vendors, making appointments, and making a detailed to-do list.
At first, this made me uneasy, like maybe I was dropping the ball as the MOB (Mother of the Bride.) But then I realized that not only is my daughter a more naturally gifted planner than I am, but things are different now than in the 90s. For starters, she has the internet. The best resource my mother and I had for information was her friends with married daughters.
My point is that it doesn't matter who's in charge of wedding planning as long as the bride is happy. But knowing up front who will be taking the lead can eliminate some stress and maybe even hurt feelings. 
2. Get an app or other checklist
We hired a wedding coordinator for a one-hour consult to ensure we were on the right track. But our best tool for creating and checking things off our to-do list was an app we could update. We used Wed Happy, but many good apps are available. 
3. Lower your expectations
I guess I envisioned helping my daughter plan her wedding would be champagne-soaked afternoons picking out flowers and tasting cake. It wasn't. Sure, we had fun–sometimes. But particularly since we don't live in the same city, wedding planning was often rushed, stressful, or boring. And that's okay because the important thing is the result. 
4. Make your own magic
Perhaps one of the reasons wedding planning didn't live up to my dreams is that in my dreams, shops, and vendors would roll out the red carpet and be as giddy about our big event as we were. Not so. Visits to the cake shop, the bridal boutique, and the seamstress were all decidedly unspecial.
My daughter joked that the liquor store she visited with her father did the most to make her feel like a bride by offering her water in a glass. Had I thought about it in advance, I would have done more to make our wedding errands special–taken champagne to the wedding boutique or brought along pretty plates to sample cake. These are small details, and in the end, they don't matter much, but looking back, a few little touches could have made some of our planning more festive. 
5. Include other women in your family
One thing that did make some of our shopping trips more special was inviting other women in our family to join us — the bride's sister, a beloved aunt, and both grandmothers all participated in choosing THE dress.
6. Do something very unoriginal
In today's Pinterest world, it's easy to get caught up in making everything unique or special (see above), but there's something fun about doing a few things that generations of other brides and MOBs have already done. After trying a small, chic boutique, we went to our state's largest and most famous bridal store four hours away in In-the-Middle-of-Nowhere, Arkansas.
We almost crossed this traditional Arkansas experience off our list but were so glad we didn't. Not only did my daughter find THE dress there, but doing something that countless other brides have done before made the trip extra special. 
7. Be VERY specific with your photographer
My daughter gave her photographer a list of must-have photos from the wedding. And for the most part, he came through. It did not, however, occur to us to tell him what we wanted in the way of reception photos.
Trusting in the professional on hand and eager to be fully present for the evening, I left my phone in my bag and didn't take a single picture all night — a big mistake. To commemorate one of the most fun and festive nights in our family's life, we have multiple photos of empty tables and the backs of people's heads. 
8. Reconsider a formal sit-down dinner
This is a personal choice we debated for months before the wedding. In the end, we opted for an eat-when-you-want buffet. Not having a lull in the fun while the food was being served and not relegating people to an assigned seat contributed to the festive atmosphere of the reception and kept the momentum of the celebration.
9. Don't go for too many photo-op moments
Too often, the bride and groom's time at their reception is governed by photo ops. Of course, there are specific moments you'll want to capture, but candid photos of everyone celebrating the new couple are just as priceless, and catching those doesn't involve interrupting the fun. We did away with the exit photo. No birdseed, bubbles, or ribbon wands — instead, the bride and groom danced the night away with their friends without interruption. 
10. Don't forget to meet and greet
I can see now why receiving lines used to be a thing. They allowed the bride and groom and their families to at least say hello to everyone and thank them for coming. I had a fabulous time at my daughter's wedding reception, but I might have been so busy having fun that I missed the chance to greet some people and meet some members of the groom's family. I regret that. 
11. Try not to get cranky with people who tell you to relax
Relax. It's just one day. Whenever someone said that I wanted to muzzle them with some tulle. Yes, a wedding is just one day. But it is also a once-in-a-lifetime day and a day that is uniquely special and sacred. There's nothing wrong with wanting the celebration of that day to be beautiful, comfortable, festive, and fun. Planning an event for dozens or even hundreds of people that is beautiful, comfortable, festive, and fun can be stressful and expensive. And that's okay because the memories will last a lifetime. 
If I had it to do over, I would do a few things differently. But overall, despite the stress and a few disappointments, helping my daughter plan her wedding and reception was one of the greatest privileges of my life as a mother. I wish the same for every bride.
More Great Reading: