It is painfully stating the obvious to say that college is expensive and for many families, prohibitively so. Adding to the expense of tuition, room and board are costly textbooks and dorm supplies for life on campus.
So what can parents, do to help? Watch this video and tell us if you're motivated to do more:
When we saw what Kleenex did for these kids leaving the foster care system, we wanted to help. Thus, the Grown and Flown Move in Moms project was born.
Want to help?
A bundle of dorm supplies costs $200 and anyone wishing to underwrite a bundle will be recognized as a G&F Move in Mom Angel. There is no amount too small, however, and any size donation is welcome. Thank you to all who have already contributed. Donations can be made online via PayPal to [email protected]  or by check to Grown and Flown, PO Box 810, Katonah, NY 10536.
MY LATEST VIDEOS
G&F Move in Moms Project
This spring, we are working with 31,000 parents in the Grown and Flown Parents Facebook Group (join us!)  to help 225 smart, motivated and largely first-generation students in the University of Texas College of Liberal Arts Foundation Scholars Program  get ready for college by providing them with the items they need to settle into dorm life.
The Foundation Scholars Program offers kids academic support and mentorships to help these students acclimate to the demands of college life. We want to further help them by providing new bedding and laundry supplies on move in day. By defraying students move in costs, we hope to take some of the financial burden off of their families.
This is year one of the project. Our hope is that through the combination of the parents in the group – who come from all over the country – and UT alumni support, we can buy and ship dorm goods to approximately 225 students. Hopefully, this project will serve as a model and will expand to other campuses in future years.
UPDATE: Huge thanks to everyone who helped with this project.  Read more HERE about how it all turned out. 
Special Thanks
AllerEase, recipient, of the Good Housekeeping Seal of Approval for their excellent products, makes allergen-barrier bedding, including mattress and pillow protectors. They are donating 300 mattress protectors, one of the top ten essentials we believe ALL students should bring to college, to help these students stay as healthy as possible! We are incredibly grateful to AllerEase for their generosity.
What else can YOU do?
Project Repat is a company that makes quilts out of t-shirts, an amazing off-to-college gift.  Grown and Flown is donating all of our commissions to the Move in Moms project. To place an order, and contribute at the same time,use this link to sign up on their site,  enter grownandflown as a code and you will receive 20% off the purchase price and we will receive support for Move in Moms.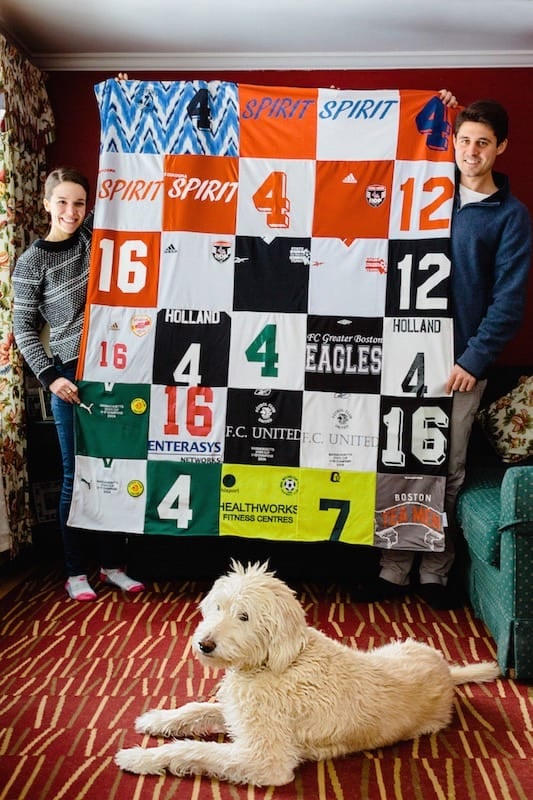 About Grown and Flown
Five years ago, Lisa Heffernan (New York Times bestselling author) and Mary Dell Harrington (formerly with NBC and Lifetime TV) started Grown and Flown, a place to write about parenting kids 15-25. It has become a digital destination for parents of high school and college children, especially during the off-to-college years when parents prepare their teens, and themselves, for the profound changes in family life when kids leave home. During the last year, Helene Wingens joined the team as Contributing Editor and is helping with Move in Moms.
Grown and Flown Move in Moms Donors 2017
Move in Moms Angels
Dean Randy Diehl and Mary Diehl
Dr. Kathleen Aronson and Timothy Aronson
Stuart W Stedman
Mary Lou Harrington
Carrie Harrington
Barbara and Michael Jiongo
Susan Smith Ellis
Sam and Cindy Moser
Wendy Koch
Wilson Neely
Gordon and Louise Appleman
Mary Jane Edwards
David and Sylvia Jabour
Coby Chase
Patrick and Karen Walker
Marilyn White
Bonnie Klein
Liora Yalof
Becky Blades
Heather Cabot and Neeraj Khemlani
Susan and John Palumbo
Sharon Greenthal
Lisa Lichtenberg
Ruth Suzman
Melissa Schoen
Jane de Beneducci
Cathy Heck
Lisa Bolton Singelyn
Marlene Paltrow
Elle Rubach
Joan Mollerus
Sharon Feldstein
Mary Fusillo
Joy Smith
Jennifer Herzer
Ann Hoeppner
Paula Millard
Peter and Rosnne Aresty
Leslie Purcel
Kate Niehaus
Amanda Beck
Sokol Family Foundation
Helene Wingens
Grown and Flown
Donors
Diane and Herve Wilczynski
Linda and Geoffrey Glass
Whitney Long
Nancy Witt
Marianne Stack
Martha Swartz
Ann Garth
Jennifer Closson
Christina Granahan
Susan Dykes
Irma Mattner
Shannon Butler
David Bruning
Ronda Roberts
Connie Ostwald
Jennifer Scalora
Susan Levin
Tim Bock
Karen Gard
Rebecca Labowitz
Danielle Clancy
Felicia Kahn-Grant
Anneliese Crawford
Jamie Clyma
Lyle Zuck
Paula Sacco
Carolyn Brown
Brad Spear
Eve Hiatt
Lori Saizan
Pamela Shapiro
She's Fit to Lead
Janet Runkle Wall
Sue Sklansky
Tiffany Mitchell-Braker
Cairy Brady
Deborah McKeown
Susan Bell
Lisa Victory
Walker Berning
Annie Berning
Janet Ross
Andrea Gerlach
Ann Norman
Lisa Hall
Danielle Clancy
Mary Lee Cruz
Margaret Bower
Ann Cone
Renee Barasch
Andrea Raisfeld
Eve Hall
Robyn Schmidt
Suzanne Sonnier
Karen Clements
Linda Eisen
Lori Herbsman
Mary Dell Harrington
Rachel Smith
Kimberly Upton
Lindsay Miller
Cathleen Church-Balin
John Mullins
Patricia Difilippo
Janis Sterling
Allison Kramer
Carter Lee
Celia Boyle
Anne Bullinger
Tim Galema
Jamie Applefield
Lisa Gruchot
Laura Schneebaum
Rachel Kitchens
Julie Shaw
Grown and Flown Authors and Friends Who Donated Their Writing, Photography, Artwork
Abigail Swartz
Theresa Kilman
Laura Catherine Hahby Hudgens
Annabel Monaghan
Melissa Fenton
Julie Burton
Karen Walker
Paulette Yost
Joy Hartman
Rochelle Weinstein
Beth Mund
Nerys Copelvitz
Peggy Montella
Jill Sorban
Caryn Bernardi
Julie Severson
Julie Wiesen
Amy Gesenhues
Linda Wolff
Maureen Stiles
Julie Gardner
Rachel Scherl
Roger Martin
Ariele Taylor
Kelly Radi
Maureen Paschal
Randi Mazzella
Julie Huber
Judy Kugel
Angie Frederickson
Reyna Gentin
Gail Post
Karen Geiger
Christine Kouwenhoven
Lisa Godwin
Rachel Spates
SaveSave
SaveSave
SaveSaveSaveSaveSaveSave
SaveSave
SaveSave
SaveSave
SaveSave
SaveSave
SaveSave
SaveSave
SaveSave
SaveSave
SaveSave
SaveSave
SaveSave
SaveSave
SaveSave