Summer is coming and that means in a few short weeks, our teens will be underfoot all. summer. long.
Our grocery bills will skyrocket because our six-foot man children will be filling their hollow legs with snacks while playing endless rounds of Fortnite with their friends.
Our family rooms will become a wasteland of soda cans, discarded hoodies and summer reading books that won't be picked up until three days before school starts. And we will never know exactly where the TV remote is at any given time.
Our bathrooms will be, well, we all know what it's like to live with a teen boy full time. Calgon, find Mr. Clean stat because I can't take that relaxing bath until someone other than me cleans the grime off the bathtub. Because ew.
And, their bedrooms.
God help us all, their bedrooms become even worse than when teens are out of the house for the school year. If I'm being frank, I've found that summer vacation is only bearable if I keep the doors to my teens' securely closed at all times. If they want to live like barnyard animals, that's fine. I don't have to see it in action.
As if completely wrecking the shared spaces of our houses isn't enough, teens take up pretty much every available space on the couch, the floor and the deck furniture as they binge watch tv shows and drone out the drudgery of the dog days of summer. Everywhere you turn, evidence of teen living invades every crevice of the house in the summertime. Frankly, I'm a little jealous. When was the last time I ignored the laundry in order to binge watch a show?
Basically, teens and summer vacation are the reasons we can't have nice things in our houses.
Teens are a lot of fun, yes, especially on those nights when you are hanging out by the fire pit as a family or on vacations where they give you the gift of only rolling their eyes for half of the time you are away. But, teens also suffer from selective amnesia when it comes to remembering the basics of how to keep their spaces tidy.
Thankfully, parenting vlogger Deva Dalporto of My Life Suckers has come to our rescue with her tutorials for teens, or anyone, really, who can't seem to remember how to do simple household tasks.
And, if she uses a little passive aggression to get her message across? Well, that makes her my mom hero.
Summer vacation with teens means basically using every dish you own every day and then repeating for 13 weeks. And, if you have a teen who likes to bake yummy treats for her friends, you often wind up with a stack of dishes and a wicked case of dishpan hands. Suck it, Madge. Thankfully, Dalporto has a nifty video for teens who have forgotten how to clear their plates from the table:
She even gives you a map, teens. A map.
One of my biggest pet peeves when it comes to living with teens is constantly finding the toilet paper dispenser empty. How hard is it to replace the toilet paper, kids? Apparently it's easier to get a perfect score on an AP exam than it is to spare a square so your mother doesn't go completely berserk on the regular. Thankfully, Dalporto has us covered there, too:
Seriously, teens, we gave you life and access to the family car. You change the toilet paper. That's how it works.
And, of course, let's not forget the biggest lesson most teens need to relearn if they are going to survive a summer at home: flushing the toilet. It's as if everything we've taught them about bathroom hygiene falls completely out of their ears the minute they get off the bus for summer vacation. Between not flushing and aim that would make Aaron Burr proud, the bathroom becomes a war zone when you live with teens in the summer.
FLUSH. THE. TOILET. This is not a request.
For those teens hoping to earn extra credit (read: a later curfew and a few extra bucks for the movies), Dalporto has a video that will be a challenge that few teens will be able to master. Teaching a teen to always load the hamper has proven elusive to even the most seasoned of parents. This video might be just what your teen (or significant other) needs to see:
Parallel parking is hard. Hampers are not. 
With Deva Dalporto and her helpful videos on our side, I think we can all agree that summer will run a lot smoother. Or, if nothing else, we can at least laugh until we cry about the piles of laundry sitting next to our hampers.
Related:
Welcome Home for the Summer! Here Are The Ground Rules
The Best 10 Tech Grad Gifts For 2018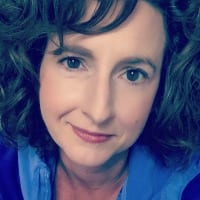 Christine Burke is the Keeper of the Fruit Loops, Manager of the Fecal Roster and Driver of the People Mover. In other words, she's a mom. An Erma Bombeck Martha Stewart with a Roseanne Barr twist, she has the mouth and organized cabinets to prove it. She resides in Pennsylvania with her ever budget conscious husband, two blog inspiring Fruit Loops and her extensive collection of thrift shop shoes.In her spare time, she runs marathons and drinks cheap wine to cope with it all. Her personal blog is Keeper of the Fruit Loops.
SaveSave
SaveSave
SaveSave