Like so much of the nation we are caught in Downton Abbey's thrall. Sunday evenings have been transformed from the dreaded night when preparation for the following week begins, to "Downton Night," a blissful evening of mindless English fun. But is it mindless? Layered into Julian Fellowes' crackling dialogue are some of the best parenting lessons of the last 90 years. Looking on from our American twenty-first century vantage point we feel that Earl and Lady Grantham and their brood have taught us a few things: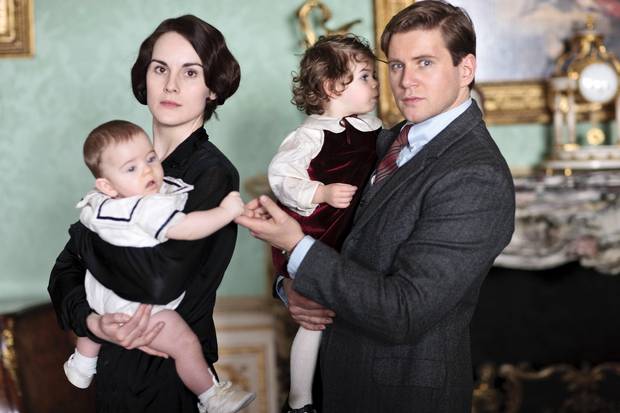 1. Grandparents have a crucial role to play in any family as dispensers of wisdom and healers of souls.  No one can put a situation into perspective better than someone who has seen seven decades pass. In times of pain and panic, it is the Dowager who is needed most.
2. If we do not change with the times and listen to those much younger than ourselves, our children in particular, even when they seem callow and naive, we will soon become obsolete. The world is spinning on and we listen to the young or risk forever being a prisoner of a bygone era, be it 1926 or 2016.
3. We mustn't wait until caught in the grips of grieving to tell our siblings how much they mean to us.  The sibling relationship is life's longest and we would be fools to take it for granted. Edith's words to Mary as they watched their sister die were heartbreaking.
4. A home is truly only a building, even if it is Downton Abbey.  Losing possessions matters little compared to losing those we love. We did not shed a tear when we thought the family would lose their beloved Downton, the same cannot be said of Sybil's passing.
5. If our child finds true love (or friendship) whether or not the object is someone whom we would have selected, we must rejoice for them.  A seeming gentleman might jilt our daughter at the altar but a good man will love her until her last breath. One only needs to look at the sad episode of Edith and Anthony versus the true love shared by Sybil and Tom.
6. Our children need and deserve our understanding and forgiveness, true forgiveness, even when they have done wrong.  We love them and that love must transcend their mistakes. Mary's painful transgression with Kemal Pamuk did not deprive her of her father's love.
7. Never underestimate the power of a few well-chosen words. Speaking softly but strongly can have amazing results. The Dowager and Dr. Clarkson chose their words judiciously and, although Cora's heart was breaking after her daughter's death, she was not alone.
8. People can reinvent themselves – give them a chance to prove that they've changed and avoid being judgmental and closed-minded, as the family was with Ethel.
9. When our deepest gut feeling tells us that there is something wrong with our child, even when experts may not agree, we need to follow our gut.  Watching our child for a lifetime, through all of its up and downs, makes us an expert. No one knew Sybil better than her own mother.
10. Turning on those we love at life's worst moments, although perhaps understandable in our rage, will only magnify our grief.  True consolation and understanding comes from those we love the most as Robert and Cora were to learn.
11. If someone truly cares for us, we should give them the chance to show how much. It is amazing what good things happen by letting love into our lives as Daisy did with Mr. Mason. When things are difficult, it helps to have someone to talk to honestly.
12. True friendships are one of life's greatest gifts. We must not keep our problems bottled up inside. Where would Mrs. Hughes be without the loyal Mrs. Patmore?
13. We should teach our children to have faith in the people they love, even at the worst of times, like Anna and Bates.
14. If we have different rules and standards for our sons and daughters, things will not go well. If Mary could have inherited Downton Abbey, the show might have ended after the first season but all would have been well with the Crawleys.
15. We must teach our children to be careful with their trust and alliances. Some who appear to be their friends will betray them. It is hard to know if someone is an O'Brien, Thomas or Mr. Green.
16. The loyalty and love of our children is one of life's greatest blessings, never to be taken lightly. Mary's loyalty to her father, when he is right and when he is wrong is a source of comfort and strength.
 17. We don't need to like or even approve of everything our children do, but we can still offer encouragement.  When our children's passions emerge and they show real enterprise, they need us as their supporters.  It is hard not to imagine that someday Robert will be proud of a daughter who is a successful journalist.