On March 13, 2021, it will have been one full year since anyone has entered our home beyond our immediate family of five. Twelve months since teenage bursts of laughter filled the kitchen. A full 365 days since children beyond our own sat on the oversized old brown couch and watched a horror movie or a John Mulaney bit.
It will be an anniversary that will not go unnoticed.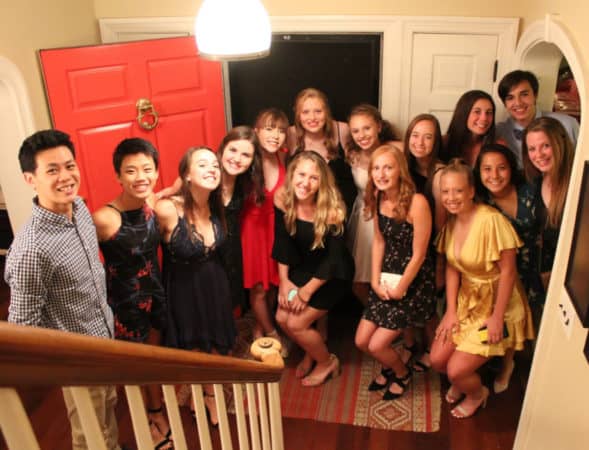 The anniversary of the world shut-down is coming up
We always wanted our home to be a safe place where our children and their friends could gather. When we moved five years ago, instead of buying a big "open concept" style layout, we consciously searched for a home with a gathering space for our kids. A space that felt removed enough for teens to enjoy their privacy, but not a space that was tucked away in a basement hideaway (I learned that mistake from our last house as I had to keep "doing loads of laundry" just for a valid excuse to check on new teen boyfriend).
We hit the jackpot with a family room addition on an old colonial house — the teens had their space, but it was just off the kitchen, so we were aware of the comings and goings. 
We were never trying to be the cool hangout, just a safe one. And a last-minute one too (as teen plans have a way of falling through – ALL. THE. TIME). Just a space where friends could come after Friday night football games or order a late-night pizza. A no-frills gathering space where my kids' friends felt comfortable to just be kids.  
On March 13, 2020 our high school announced a three week closure
Flashback to March 13, 2020: Our school district had just decided to "go remote" for three weeks. No one yet really understood the depth of what was happening. Our senior daughter had just finished what turned out to be her LAST DAY of high school.
Of course, we didn't know this at the time, so there were no photos or celebrations. No selfies while cleaning out the locker she had for four years. No hugging your favorite teacher goodbye. Instead, there was a foreboding sense of anxiety and fear that followed her home from school.
"Mom, would my friends be allowed to come over and watch a movie tonight?"
I would normally say, "of course!" Instead, I paused….
The fear and uncertainty were affecting me too.  This was definitely one time as a parent when I could not rely on personal experience to help guide my decision-making. We were all flying solo. And trying our best. 
Hesitantly, and for the last time, I said, "Of course."
And for the rest of my days, I will remember that night.
That night the anxiety was running very high
As my daughter's friends trickled in, the anxiety level was SUPER high. It would be high in a normal year — about college acceptances, AP exams, and prom dates. But this night was different.  
"My parents said this is the last night I am allowed out until the pandemic ends."
"Did you see [our teacher] crying as we left school today?"
"Guys, I am kinda scared."
This was not normal anxiety. They were feeling the weight of our new world on their already feeble 18-year-old bodies.
"We're all in this together."
These kids had worked their way through horror movies and Tarantino films all year long – because that is what high schoolers do. But as this high-achieving group of friends decided on a movie, they unanimously agreed. On HIGH SCHOOL MUSICAL. No lie. 
These 18-year-olds, who were receiving acceptance letters from all over North America, chose to watch a G-rated Disney television movie that was released when they were preschoolers. About HIGH SCHOOLERS. High schoolers who magically figure it all out. And make it all work. And fill their college applications with basketball AND drama because East High is that kind of place!  
Troy and Gabriella were like old friends, and they wanted to hang out with them.
As they gathered on the oversized old brown couch singing loud enough for me to hear (from the next room of our closed-concept house), they knew every line of every song. And so did I.
"Gotta get'cha, get'cha head in the game…"
"Don't mess with the flow, No No, Stick to the status quoooo"
"We're breaking FREE…. soaring, flying…!"
At a time of anxiety, they chose to return to a simpler time
And tears filled my eyes. In their time of greatest anxiety, they retreated to a time of innocence. A time when life seemed simpler. Because it was.
"This is the start of something new…"
As we slowly trickle back to a sense of normalcy, I think of my daughter's friends. The valedictorian: taking college courses remotely from his childhood bedroom. The lacrosse and the cross-country stars: both with their first college season canceled. The orchestra's first clarinet player: sent into isolation quarantine more times than she can count (by no fault of her own).
The "best dressed": stuck in sweats all fall as her university did not welcome freshmen first semester. The "most likely to become president": forced to pack up her dorm room and move home second semester as her university grappled with controlling the virus.
But on March 13, 2020, we did not know the heartache ahead. We did not realize the graduations and proms and parties that would be lost to time. We did not fully understand the depth of Covid 19's toll on our teenagers' lives. We just knew that this little Disney musical – that was released when members of the Class of 2020 were only four years old – was exactly what we all needed.  
The ominous one-year anniversary is coming. And I know where I will be. With tears in my eyes and a smile on my face, I will be sitting alone on our oversized old brown couch watching Troy and Gabriella. And singing "we're all in this together" at the top of my lungs.
More to Read:
The Kids Are Not All Okay; Maybe It's Time to Let Them Grieve