10:26 a.m. An ordinary day turns out to be anything but ordinary when I get a text from my daughter saying; "You're going to hear about a shooter on the Ohio State campus. I'm safe and far away from it. Don't worry." I stare at my phone. Don't worry? Obviously this girl never gave birth. A message like that forces a parent to forget how to breathe.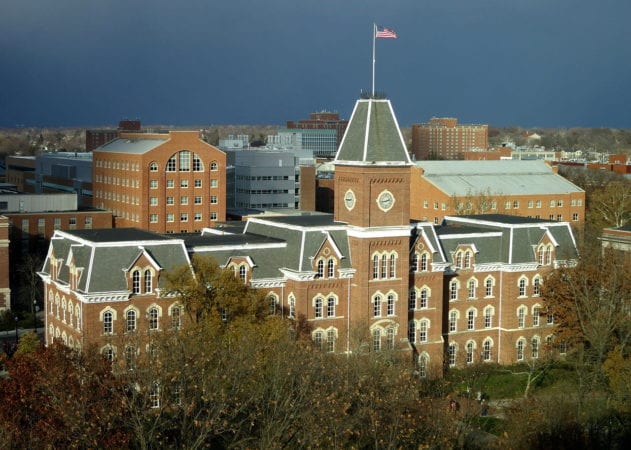 10:27 a.m. I start working my phone. I calmly let her brother; other relatives and a few close friends know that she's okay via text messages and Facebook. I pride myself on being oh so efficient.
10:30 a.m. Co-workers ask if I heard from my daughter. Like a robot I say all the right things, 'no need to worry, she texted me, she's fine.' I get another cup of coffee like it's just another day at the office. But, it's not. Massive attacks like this are now the new normal. So sad, we whisper to each other; we say a prayer for the victims, then we get on with our life. I learn it's quite different when you have a personal connection.
10:35 a.m. I ditch the calm facade and start frantically clicking on CNN, CBS, NPR or any and every website I can think of, trying to find out something, anything. The Ohio State reports are conflicting. Is it a single shooter? A fire alarm was set off, does that mean more than one attacker? Endless speculation only makes my imagination run wild. The photos I see are upsetting; so many officers, police dogs and running students. Wait! Is that a SWAT team on the Lane Street Parking Garage? I parked there once. Was it for orientation or is that the garage within walking distance to her dorm? Realizing this is only making things worse; I turn off the news sites and just stare out the window.
10:50 a.m. I watch my phone blow up, text messages fly in from everyone I know who I didn't think to contact. Some of the messages come from a few mothers who, just like me, have a freshman living on a college campus. I read their words of comfort and know they are thinking, this could be happening to my child.
11:05 a.m. I slap my calm face back on and go into a meeting. Wow, I rock at multitasking. I am simultaneously nodding my head, appearing to be engaged, even speaking at appropriate moments while continually glancing at text messages and news apps on my phone. Then the anger sets in. Out of all of the college campuses in this country, why is this happening where my kid is going to school? Why is there so much anger in this world?
11:15 a.m. I suddenly remember my elderly aunt and uncle. They are not on Facebook. I'm not sure if they have a cell phone but I am almost positive they have their TV turned on. I excuse myself from the meeting and call them. As soon as my aunt hears my voice she asks about my daughter. "She's okay," I say, quite relieved to say those words out loud. Finally, I exhale. It's ironic, I called her so she wouldn't worry but the reverse happened. Her words comfort me. Is it because she's a mother with three grown children, who live in other states?
11:38 a.m. I get another text from my daughter, "Lock down has been lifted. All classes are canceled for the day."
We text back and forth a little more and when I asked if she was freaking out while it was happening, her response startles me, " Honestly, I was fine. Everyone off campus is more upset than anyone here."
I paused for a moment and I think, of course she's fine.
She doesn't realize that she has been preparing for this moment ever since she entered kindergarten.
School lockdowns are upsetting for parents my age (I remember occasionally sitting under a desk, preparing for an atomic bomb to drop; which in hindsight, was a rather meaningless drill). For today's college freshman, however, lockdowns are completely normal.
After all, she started pre-school the day after terrorists flew into the World Trade Center. As she has grown, so has the frequency and severity of mass casualties in public places.
It turns out the attacker at Ohio State wasn't a shooter; it was a person who drove into pedestrians, got out of his car and started attacking people with a knife. To a parent, the actual weapon doesn't matter.
I didn't get this far in the mothering game without knowing when to talk and when to shut up. When she called me that same evening about a totally unrelated matter, I didn't mention the 'violent incident' as the media called it.
And, neither did she.
From her worldview, random acts of violence are simply a part of life.
Related:
Shelter in Place: When Tragedy Strikes Your Kid's Campus
The Myth of Protecting My Children
Gifts for College Students: 18 Favorites Your Kids Will Love
Carole Reinert, a mother of two, lives in Pittsburgh, PA. She's worked as an advertising copywriter, a journalist, and a magazine editor; and is currently a writer at a digital marketing agency. She's written essays about her dog needing Prozac and how hard it is to give up coffee and plans to devote more time to essay writing now that her youngest has left for college. You can learn more about her by visiting her website. Find her on LinkedIn and Pinterest.