When nurse Misty Yeryar saw something beautiful happening at the health campus where she works, she quickly snapped a picture and posted it to Facebook. The post went viral, with almost twenty-five thousand shares as of today.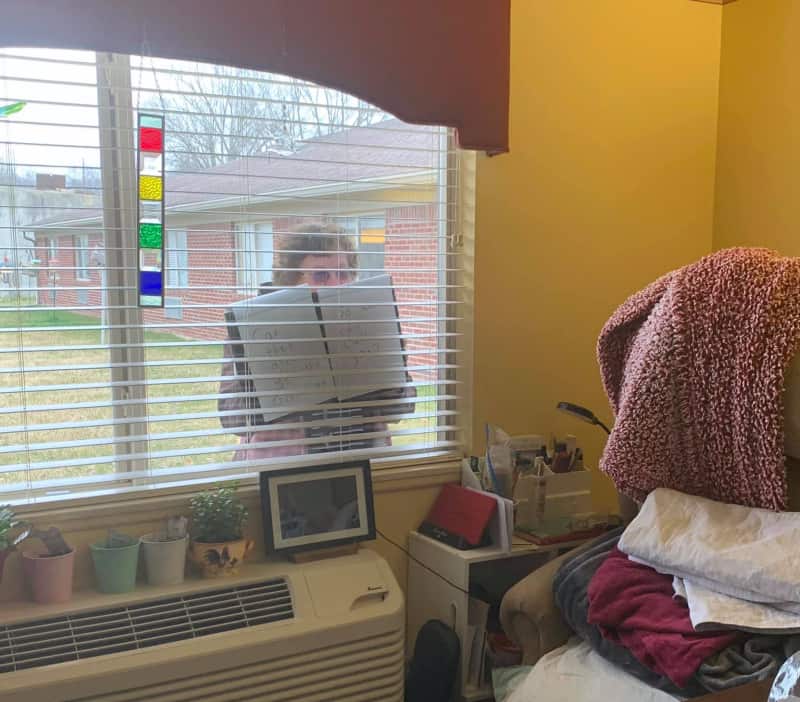 Misty wrote,
I've read so many memes with jokes re: the Coronavirus. I've found several funny, but as a nurse this is the "real life" I get to witness…

A daughter.. standing outside her mother's room writing to her on a notepad through the window in the cold!! I cried. It broke my heart to witness that, but at the same time I was in awe.

Some families are upset about the protocols that have been put in place. This woman showed grace. Instead of being "mad" she came to talk/visit her momma like she does every night.

Today, she did it through a window. As I came to the window she said "Are you all ok in there" which made me cry more! "Yes, we are ok, just trying to keep everyone safe." It made her mom's day too!" THIS IS LOVE and I'm SO happy I captured this moment!
Grown and Flown spoke to Misty and she said that she,
"…just wanted everyone to see the love of a daughter in the midst of this. Very simple. It's just not about the social media meme's, school closings, & sporting events being cancelled. There are families who are genuinely concerned that their loved one will not remember them if they cannot visit for several weeks. We have put things in place to help assist with the social isolation re: families. We are setting up Skype for all our residents to use if wanted, families can still call and every resident has access to the phone at any time of day. It is hard for everyone involved. Taking the precautions to keep everyone safe is our major concern with this outbreak, especially with the decreased immune systems and secondary diagnosis's that put our elderly at risk."
She added that her "…top priority is and always will be patient health and safety" and "The residents are truly my family and I love them very much."
Not all heroes wear capes. And this is how we are going to get through this crisis, one person at a time connecting with others in any way they can. What the world needs now is as much kindness as we can muster and as much flexibility.
We need each other's compassion, patience and understanding more now than ever.