To My Son's College Best Friend
I don't know much about you; I know you have dark hair and you played baseball in high school. I know that you live in Atlanta. I know that you are in the same fraternity as my son and that you share the same major. You were kind enough to friend me on Facebook, so I know that you have two younger sisters, and a mom who is usually the one behind the camera. Just like me.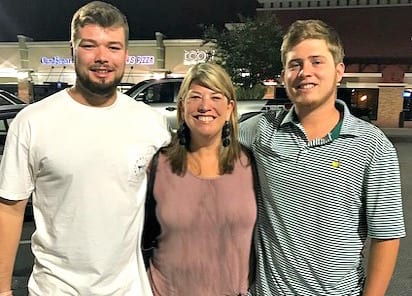 When it was time to send Connor to college, we encouraged him to go out-of-state. College is the best time in life to meet new people and we wanted him to have every opportunity to expand his horizons, because his world growing up had been small, so small.
Connor's best friend since kindergarten was going out-of-state, too, to play football. There was talk of Skype and Face Time and visiting each other on the weekends. But I knew the reality; playing football was a full-time job, and as much as they said they would keep in touch, it would be tough to maintain the close friendship; the brotherhood that had been such a life force for 12 years.
I started hearing your name in conversation about 3 weeks into school. "Alex and I went to lunch together." "Alex has a horrible roommate." Mom, Alex is hilarious." I breathed a sigh of relief. There was a friend. My boy wasn't lonely. He was going to be ok.
Then it was fraternity rush, and you and Connor pledged the same fraternity, quasi-brothers now, although you still probably didn't know each others' last names. You were there when Connor bombed his first economics test, when he ran out of money before the semester ended, when he spent the day at the med clinic with food poisoning. You were there when he broke up with his girlfriend of two years, when he tried Pho for the first time.
You are the most important person in Connor's life now; you know more about his college life than anyone else. But in case you don't know everything, he is allergic to Sunny Delight; he gets grumpy if he doesn't sleep at least 8 hours a night, and he gets really anxious before math tests.
I am glad you have each other. I hope that you will give Connor a nudge before he does something stupid, and I hope he does the same for you. I hope you encourage him to ask that girl out. I hope Connor twists your arm until you order the extra-large pizza with everything at midnight. I hope you stay up all night together studying for your Physics II final. I hope you laugh until you cry on more occasions than you can count.
I may never wake up to see your shoes in my kitchen, I may never know your Zaxby's order by heart. I won't be able to discern your laugh or your footsteps in a crowd of boys racing up and down my stairs. Your mom won't be my friend that I sit with at the soccer field or the one I go to yoga with on Tuesday nights.
But Connor has room for 2 best friends in his life, and I have room for all of you.
Take care; of yourself, and of my boy.
Love,
Connor's mom
Related:
What This College President Wants the Class of 2021 to Know 
SaveSave
SaveSave