I'm a huge Little House on the Prairie fan(atic). I watched every episode of the show and read and reread every book growing up. As an adult, I asked for seasons of the boxed DVD set for my birthday until I had the full collection. How great is it that Amazon Prime is now streaming all nine seasons of the hit show!
I listen to audio versions of all the books (unabridged, of course…nobody gets to cut Laura) every year in the fall leading up to Christmas. (Each Little House book has at least one Christmas story, and I can't bear to hear them if the real Christmas season isn't at least on the radar.) If Jeopardy ever has a dedicated "Little House" tournament, I'll get on for sure and win enough money to finally get the farmhouse sink I've always wanted for my kitchen.
Absent that sink, I did recently inherit from my parents a cabinet-mounted DVD player for my kitchen, which allows me to watch all those DVDs without leaving my "office." It's like comfort-food TV; Little House on the Prairie has a calming effect on me without pharmaceutical side effects.
But beyond its mood-management powers, I owe Little House on the Prairie an even greater debt of gratitude for all the parenting advice I've borrowed from it. Between the Ma of the books and the Ma of the TV series, I'm honestly not sure what maternal counsel I'd have given my children all these years if it weren't for Ma's inspiration. (Insert eye rolls from my daughters.) 
Here are some Ma-isms I regularly employ in our not-so-little-house-in-the-country:
Little House on the Prairie Parenting Advice
1. "The darkest hour is just before dawn." I have one teen and one young-adult daughter, so we dwell semi-permanently in The Land of Dark Hours. I quote this Ma standby at least once a week.

Once, one of my daughters humored me long enough to ask what the phrase means. I told her that in literal terms, the time of night that's the blackest is right before the sky starts to lighten with sunrise. (I'm sure there's some meteorological or astronomical explanation for this, but I am not the kind of mom who knows that type of information. Or wants to.)
In a life-experience sense, I told my teenager this truism is a reminder that when life is at its bleakest, better days are usually not far off. The trick is to hang on during those dark hours and not give up or do anything else you'll regret when the sun shines.
2. "There's no great loss without some small gain." Ma regularly offered this counsel following some agonizing development in the Ingalls family's hand-to-mouth existence. "We built our house two feet on the wrong side of the 'where you can build and where you can't' line and now we have to pick up and move? Well, at least we can eat the seed potatoes we were saving for the garden." Or, "blackbirds just destroyed the best crop Pa's managed to eke out in years? Hmmm, how many of those suckers can you bake in a pie?"

I haul out this Ma-ism when my daughters lose and gain various items and opportunities that make up teenage/college life. It makes me feel better.
3. "If wisdom's ways you wisely seek, five things observe with care: to whom you speak, of whom you speak, and how, and when, and where." Or, as I tell my daughters here in the 21st century, "When in doubt, shut your mouth." Ma wrote her 1800s version of a tweet in Laura's autograph album, and I think our kids could use a dose of this in today's Facebook/Instagram/Twitter-saturated culture.

It's the classic tube-of-toothpaste object lesson: once your words are out there, you can't shove them back in. You can always say them later, but you can't unsay them.
4. "It takes all kinds of people to make a world." Laura summoned up this bit of Ma brilliance after she'd just endured an appetite-killing lunch with her employer's contentious family in Little Town on the Prairie. In one of the rare understated funny moments in the book series, Laura observed that her boss "came from the kitchen whistling a tune, as if he had just had a nice, quiet diner with his family."
My girls get this nugget of mm gold from me when they're talking about kids at school, teachers, and other people in their circle of contacts who don't click for them. They both have acquaintances and classmates they "get" and some they don't. I understand this, of course. But I want my daughters to give grace to all kinds of people, understanding that the world would be beyond boring if everyone fit into the same mold. As my family says, "Weird is a side effect of awesome."
5. "We'll cross that bridge when we come to it." My children have inherited my skill for worrying about things as far in advance as possible, but Ma's approach is wiser. Granted, when Pa, Ma, and the gang got to it, the bridge was usually washed out by once-in-a-century flooding and they had to walk 100 miles around it in worn-out boots just to get where they were going, but still: fretting about it ahead of time wouldn't have saved the bridge. On the other hand, not worrying about it ahead of time probably did save their sanity, and following Ma's advice would probably preserve my family's, too.
I'm not under any delusion that quoting these pioneer proverbs to my offspring is changing their lives. But maybe someday, my teen and twenty-something will put them to use on their own children, as in, "Your grandmother always said…"

If so, at least I will have given credit where credit is due. Thanks, Little House…and thank you, Ma. You're the best.
Related Posts:
College Students Still Need Parenting in These 7 Ways
Saying "Get Over It" To Your Teens Is Bad Advice
7 Teens Habits I Don't Understand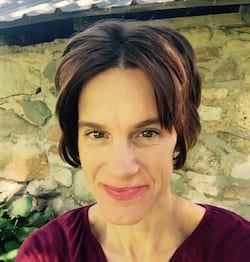 Elizabeth Spencer is mom to two daughters (one teen and one young adult) who regularly dispense love, affection, and brutally honest fashion advice. She writes about faith, food, and family (with some occasional funny thrown in) at Guilty Chocoholic Mama and avoids working on her 100-year-old farmhouse by spending time on Facebook and Twitter.