Another night of little sleep. This time it was my husband's coughing in the middle of the night that started the downward spiral into the rabbit hole of anxiety. I know it's his allergies, a postnasal drip, but my mind still plays the game of "what ifs."
What if it's more than that?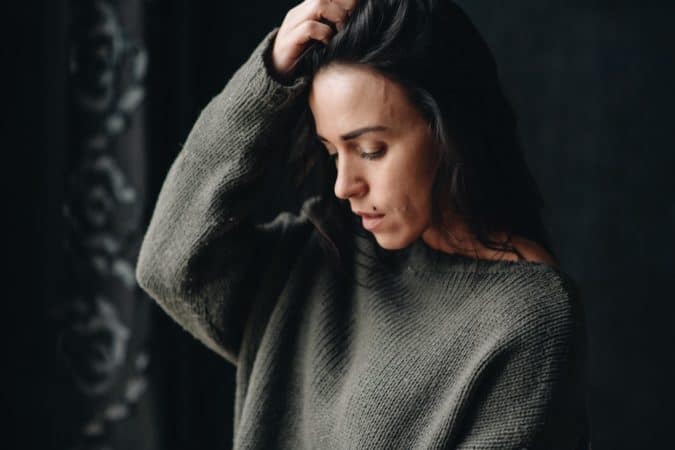 I can't escape the worry
No matter how hard I try to get off this hamster wheel of dread I can't. Not even the comfort of the chorus of snores indicating my husband is now sleeping soundly, helps. I give into the insomnia and quietly climb out of bed and into my exercise clothes.
I slip out of the bathroom and through my bedroom door gently closing it behind me so as not to disturb my husband who still has a couple hours before he must wake for work. I walk into the kitchen and notice the microwave clock. It's 3:45am. Not even the dogs are up yet.
It's too dark outside to walk so I sit in a chair in my dark family room looking at my Facebook feed to try and pass the time. Ironically, I take comfort in the number of posts talking about the impending tropical storm rather than the virus. I laugh to myself thinking whoever has "Hurricane" on their 2020 bingo card might win.
Then I see an article about a local man who has died
I continue to scroll and see a newsfeed article from our local station. My heart stops, or at least it feels like it does. Staring back at me from my screen is a beautiful wedding picture of my dear friend's daughter and son-in-law with the title, "Local husband, father dies after battle with coronavirus."
Tears sting my eyes. I read the article, even though I don't need to; my friend has painfully shared the details with me the day before on the phone. The piece gives the facts, but it doesn't share the emotional story about how she was given permission to go into the hospital to say goodbye before they took him off the ventilator.
The piece can't convey the heartache
It doesn't convey the sadness and heartache she must have felt seeing him for the first time in a month. It makes no mention of the wetness on his eyelashes she saw indicting that he did hear her when she said her last goodbye. It's easy to question the numbers and statistics and even to try and convince ourselves that this virus is not as bad as they say.
But the picture staring back- that was someone's husband, someone's son-in-law, someone's father, someone's friend-a healthy military veteran who enjoyed playing pool. The man in that picture was a beloved member of his community. He wasn't some random old man in a nursing home. He was someone who was loved and whom I indirectly knew.
The hamster wheel in my brain starts to spin again but is thankfully interrupted by my husband who has entered the room. He asks why I am up so early, then answers the question himself when he sees my face. "I know these are scary times, he says softly,
but I am okay, you are okay, and the kids are okay. We are doing all we can to keep things that way. But you not sleeping and worrying is going to make you ill. You need to let things go,"
he says for what seems like the millionth time.
As if on cue, his lecture is interrupted by the sound of our dogs' tags jingling as they run downstairs. I jump up eagerly as now I have an excuse to escape this conversation. I harness them up and set out on what is supposed to be just a quick walk for them to do their business but it's really an attempt for me to clear my head.
But each day is a chance to start anew
I make my way towards the pond by my house. While the sadness, worry and fear still weigh me down, I notice a lightness to my steps as I look up to the sky. You see the one advantage to insomnia is being up to see the sunrise and to experience dawn. It's a time where you can physically see yesterday end and tomorrow begin. A time of hope I desperately needed.
I walk slowly around the path and position myself so I will see the beauty that the heavens are about to paint. But just as the sun is about to reach the horizon, I am interrupted by a sudden pull of the leash.
My 14lb Chihuahua mix dog has noticed an older woman walking her own 4-legged friend approaching us. I do my best to retrack the leash and bring my pup in closer. It does nothing to stop him, and he begins to start barking obsessively.
Without even realizing I am saying it, the command the trainer taught us a while back slips easily out of my mouth. "Let it go" I say to the dog. He stops, sits, and looks up at me. "Now that is important life lesson, we can all use these days," the woman says smiling as she walks by us. I must look confused because she continues, "You know, let it go!"
Letting go means moving forward
She wishes me a good day as she turns the corner. I kneel down and both dogs come closer. I sit on the ground, in the middle of the sidewalk, petting my dogs as I finish watching the sun do its morning duty.
It is a new day, and while I may never be able to totally let go of my anxiety and fear, I know that I can't change what happened yesterday. Letting go is about stopping, sitting and looking up. It is about realizing that TODAY is an opportunity to begin again- this time with all the knowledge from the lessons we learned and perhaps a newer, more meaningful appreciation for life.
Letting go is not about forgetting those we have lost, but rather figuring out a way to keep their memories alive while we continue to LIVE!
More to Read:
Stop Yelling at the Teens, Just Stop A surprising number of adults are behaving badly when they interact with teens who are just doing their jobs.
I Always Want to Be With My Kids and I'm Done Apologizing for It Writer Katie Smith talks about her devotion to her three teens and why she would rather be with them than anywhere else.