It all happens in the next few days. After two and a half years of pondering the empty nest here at Grown and Flown, and eighteen years of dreading it, Mary Dell and I will bid our youngest children farewell next week as they are both leaving home for college. Mary Dell is threatening to bring home a new puppy and I am just now realizing that I should have had a fourth child.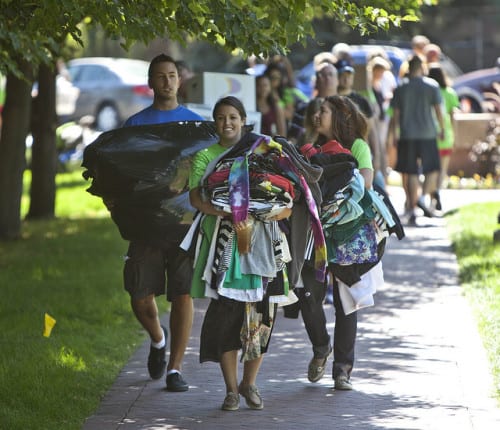 As we measure the time of departure in hours, rather than days, a montage of my youngest son's life plays before my eyes. I am carrying him into school to pick up his older brothers and his sweaty sleeping body is nestled against mine. He is scoring his first goal and, as the ball dribbles into the net, he will trip over his own feet, face plant on the field and bounce back up grinning. We are in the ER and as I offer him my finger to bite as the doctor stitches his foot, he grasps my arm tightly but does not shed a tear. I drop him off at the high school for a summer orientation and he strides into the building without hesitation or even a backward glance at me. And then today, as we fill duffel bags with sheets and towels, I am both grateful and sad at how eager he is to leave.
One of the wonderful things about exploring the path to the Empty Nest is the way so many moms have shared their families' stories with us. We asked a few moms to tell you what it was like when their kids left home and we urge you to share your story in the comments below, on our Facebook page, or give us a link to your story and we will include it below. As you read through the thoughts of these wonderful women, think of us because we are on our way!
Mindy Klapper Trotta The dropping off was not the issue, the coming home and looking at an empty room was more of a heartbreaker. Still don't like to look when my kids visit and then leave. It all just seems so stark.
Kerry Flynn Barrett I will never forget the day I left my eldest daughter in Boston where she was to attend a program for kids with special needs to have a full college experience. It was 100 times worse leaving a young lady with special needs In a big city than sending off my second daughter in North Carolina which is about three times the distance. I literally felt paralyzed on the Massachusetts Turnpike as I apparently drove the car home. I don't recall an exit I passed or a special sightseeing spot. I felt so empty, yet I knew it was the best thing for her as we all rationalize our thoughts are fears do. The memory that stayed in my mind and still does today is that I left her with the biggest smile on her face. As I look back, this was a crowning moment in both of our lives that I will never forget. She now happily resides in Cambridge.
Sharon Hodor Greenthal It was heartbreaking, even though I was so excited for my oldest to start. It was much easier with the second child.
Claire Dansby Our first to go to college had to be up at school for most of July for football conditioning….I guess a trial run so to speak. I am full of mixed emotions…sadness, joy, panic, excited for him to start the best four years of his life and sad that the best 20 years of my life are closing in.
Wendy Walker Cushing I was so full of excitement for her I could just squeal! Loved the whole experience of it last year! It's been awesome!
Laura Fehl I have been preparing for this day all year. I know it will be hard as it has been my daughter and I for the past ten years! I am very appreciative of reading all of the feedback from this group! I know that my daughter will be fine and so will I, but not without tears! Stay tuned for my first thoughts. I am sure it won't be much different from most of the other posts. It is just helpful to know that you are not going through it alone!
Barbara Solomon Josselsohn Funny enough, I felt pretty good when we drove off. I liked his roommate, I liked the dorm, I thought the college ran a great drop-off day program for parents and students, and I felt my son was in a very good place. It wasn't until we got home that things became harder. Setting the dinner table without a place for him was the hardest thing of all!
Heidi Kachline Hanley The drop off of #1 seven years ago was hard. My other two kids teased me about how I would fall apart as we left. Although on the ride back it was my husband who had a tear roll down his cheek as he was driving us all home. He just said. "I wasn't ready for that." Dropping #3 on August 16 and as someone here said, proud and excited. I'll miss him like crazy, but know it is as it should be!
Risa Nye My husband dropped off the first two, since I'd done the college tours with them and he hadn't been on their campuses yet. But we both went with our "baby" when the time came. I don't know, I guess we were all really prepared and excited, so when we did actually part ways (him to a student thing and us to the parking lot) it was a moment that signified a new beginning for all three of us. I just knew he would be happier at college than he ever was in high school, and that we were starting a new chapter too. I agree with Mindy that coming home was different–we took the leaf out of the kitchen table…really back to two after so many years.
Linda Snyder Long I drop my baby on August 19th, we live in Chicago, she's going to AZ. I know she'll do great and she's so excited to go, it's selfishly me! I will miss her so very much, she's been pure joy to raise and the sunshine of our lives!
Camille Montesi Schaeffer It's heartbreaking. I cried. Your family is never the same and the house is too quiet.
Holly McFaul up to the day a combination of abject fear and extreme pride for her. The day of nothing but pure joy and pride for her to reach her dream.
Cyndi Cervera Whitten Never try to talk and give last-minute instructions etc. while hugging them for the last time before driving away….
Jane Shrewsbury Hillis It was 1994 when we took our oldest to college. That morning before we left, I went in his room to wake him up and found the usual lump in the bed with head covered, yellow blanket on his pillow and Pooh bear under his arm…I know it sounds childish but it was what I loved about that boy. He slowly held Pooh Bear up in the air and announced, "Pooh, its time for you to find you a woman. I'm leaving & you have to stay." Leaving the parking lot with him waving was just about the hardest moment of my life. Neither his Dad, nor two sisters, or I could say a word for the next two hours. For fear of losing it. We did and guess what? four years later he graduated and got married the same weekend. Two years later we had our first grandchild ( now a total of four.) So we think the trade-off was worth some of the tears!
Cindy Redd For my first son, I felt a huge separation from "our" world. It now seemed like HIS and then the life at home. I ALWAYS jumped at the chance to be a part of whatever I was invited to! And blessing the guys at college with food is ALWAYS a WIN/WIN!!! With my second son, I was shocked that I actually left him at his dorm room door after dinner, in the dark, in a BIG city before his roommate even moved in! I still remember the horrible feeling driving away! But they both settled in, called, texted, brought some friends home. And then the football games began!!!!!!!!!! Yes!!!!
Janet Runkle Wall I dropped my first son off five years ago – I kept lingering trying to "fluff his dorm room, but boys don't like much "fluffing"! I felt proud of and excited for him, but very empty inside; tearful and sad. I drop off my 2nd son and youngest in three weeks. I have a feeling it will be very similar, except emptiness x 100! Not ready… #emptynest : (
Wendy Roever Nelson It was one of the hardest things I ever had to do. My first thought was how was I going to make it until the next time I saw her. I think I was more worried about me than about how she would do. I was pretty sure she would be fine!
Andrea Viets My eyes have been threatening to spill over with hot tears for months (and frequently do). My son is so ready. I feel proud, happy and excited for him, and heartbroken for me. This is the end of his childhood. We will find a new way of being mother and son, I know – but oh how I shall miss these days and years of mothering him up close…
Suzanne Croce McGonigal I felt victorious, like we had achieved a goal as a family. We had delivered a child with many challenges finally to the point of starting college. When I returned him to college after Christmas break I felt that overwhelming emotional separation that most (moms especially) feel in the fall. I sobbed my way out of town on the trip home!
Jean Manos Andreacci With the first, I felt like I wanted to go to college again; with the second, he looked so forlorn, I was worried; with the third, I was concerned that he wasn't ready; with the fourth, I knew she would be fine but I was lonely!
Lauren O'Donnell Weinstein To avoid the empty nest ..I got pregnant ..had 18 years between…so I got to start all over !
Annette Scolini Chastain When I took my daughter to University of Washington Seattle she was certain that is where she wanted to be. We are from Northern California. The night before I left to come home after we had gotten her all set up in her dorm she had a melt down. I knew I needed to stay strong but seriously considered packing her up and taking her back home. We decided she would stick it out one-quarter and then if it wasn't working out we would come get her. I left with a lump in my stomach that didn't go away for at least three days. Long story short she will be starting her senior year soon and we couldn't be prouder of all of her accomplishments. What doesn't kill you makes you stronger. Stay strong
Vilma Sicilia-Sceusa As The Nest Empties  is a blog post I wrote about sending my daughter off to college. Love your blog!
Annemarie Favatella Enoch I made myself sick for a year knowing I would be dropping my son off at college, which was only 1.25 hours away. Now he is going to London to pursue his Masters and PhD. Who knows when he will come home.
Cheryl Nicholl I wanted to cry, and feel the loss, but we got a call from our daughter-at home (w/ her grandmother) who had just been caught giving a HUGE party while her grandmother was out. It was on Fox news. I. Kid. you. Not. So… instead I was screaming.
Julie Silverman Burton How To Say Goodbye: A Lesson From My Daughter "
And finally like so much else about parenting, we don't really know what it will be like until we are there.
Julie Warwick I drop my only child off  – four hours away! – on August 21st. I just keep trying not to think about it……I am excited for her but am going to miss her sooooo much.
Crista Cornwell McCormick Will let you know in twenty days
Linda Faucher-Swallow Will let you know in less than a month
Judy Lanoue Dudley 17 days away from dropping off my first at WVU. Will let u know
Becky Stone I will be dropping off my one and only child, my daughter, at ASU and then I'm moving to Utah! The kids are supposed to leave NOT the Mom! Who does that? Feel guilty but I guess I have to get on with my life like she's getting on with hers. I will miss her soo very much!
So grateful for these heartfelt comments left below.
Becky Blades  I am trying to keep it light, because I'm in a house full of comedians. But the sense of immanent loss feels heavy today.
Patti just dropped off my first child yesterday and my heart is still very heavy. Honestly, it was the hardest thing I have ever done. I have enjoyed mothering him up close and now need to figure out how to navigate from a distance. He is ready to be on his own and I need to figure out to let him go.
Michelle I feel like I left a piece of my heart at my daughter's college! I have the level headed mom on one shoulder and the emotional mom on the other. Emotional mom is winning. I am allowing myself to feel every bit of sadness I feel. I can say I was not prepared the overwhelming since of heartache that I feel.
Kathy Radigan I have three years before my first heads off to college and reading these accounts is breaking my heart! I know that it is wonderful for our children to be at the stage of life to start spreading their wings. This is what moms work for right? The whole point of our job is to get our babies ready to live on their own. But I want more time!!!
Alison at the Gracious Posse  I surprised our family with a puppy on Christmas Eve, and for the last few months my son has been calling the dog his "replacement." I will have to shrink our breakfast table and find ways to keep from dwelling on the memories. At least the puppy will get me out of the house.
Nancy My mother passed away of Alzheimer's several years ago, but was living with us when my oldest went off to college. She had moments of clarity at that point, and I will never forget what she said when we took him to school…"He will come home again, but it will never be the same."
Debbie None of my daughters went close by and as I look back on it that was a very good move. Not only did they become independent and self-assured but they trained me to start a life of my own as well. And that I did. I work part time and went back to college and now am looking forward to attaining the long lost Bachelor's Degree.
Melissa Lamke Beyond thrilled for both of our daughters as they begin their journey of becoming who they will become, heartsick as I feel like it is almost a death of my motherhood. I also have this overwhelming drive to recreate/nest our new, childless space- maybe it's to lessen the feeling of the missing family members. I feel a need to make changes so that I don't miss the old and familiar as much.
Annette Officially me and hubby aren't empty-nesters as the older brother is back home after graduating and the oldest of our 3 sons bought a house, a mile down the road from us. So, not officially empty-nesters but still missing the youngest like crazy today and for weeks to come, I'm sure!!!
Normaleverydaylifeblog I will drop my oldest off in three days. There is a constant lump in my throat and I could cry at any minute. I know she's ready, but it's still hard. The best 18 1/2 years of my life and it's hard to see that change!
Tanya  I want to redecorate/repaint my home. And that's how I will distract myself for the first few months of this new chapter. After that, I can't see where the road ahead leads. Honestly feeling a bit lost. But you put one foot in front of the other – what else is there to do?
Patti/KnowsyMoms Just said goodbye to our younger son. Of course, it's not a final goodbye but today marks the end of 23 years with kids at home. That's a big chunk of life and a big chunk of my heart. When I wrote about our older son going to college four years ago, I could not have anticipated what is now, truly, the end of an era.
Marisa Davis We noted a couple of engaging young men trying to find common ground with our son, so it was time to leave. Our son was ensconced and the cramped dorm room a comfortable mess. Husband and I drove to Martha's Vineyard afterward and celebrated our success and the wealth of opportunities ahead for our son, for the people he would meet and those random late night conversations and events that would shape his life.
Laura Over the past couple of days, I keep remembering the look I saw in our son's eyes as he hugged us goodbye; he was unafraid, proud to be there and ready to get on with it. Thus, maybe we do, indeed, deserve to take that victory walk. 🙂
Janet We go tomorrow morning to take my first and only daughter. I can barely read the blogs without crying. I am so excited for her and so sad at the same time to be having her leave me. There I go again. I am sure eventually my eyes will stop leaking tears.
NKP And then there is the guilt…guilt that moving on is so hard, guilt that this is so silly to be sad about, guilt that this hit me so hard. Move on, I hear myself saying, take classes, hike, walk, meet friends, do projects, and sometimes I do. It's just …different…hard…words don't describe it adequately.
Janet  I cried over cheese yesterday – yes, CHEESE! I was making a grocery list and put the kind of cheese I use to make my son's breakfast sandwiches in the morning before school and realized I won't be doing that anymore!
Anonymous Our first just left last week. He has been a joy to raise. He has been a mentor to his younger sister, a calming influence to his brother with autism, and quite frankly… he has been co-parenting for a while with us. This has been the biggest adjustment of our lives, and its awful.
Melissa Wells  I wrote this last year when we dropped off our younger son and officially became empty nesters. It's not so bad.
Mary Beth Dropping my only children off 4 hours away tjis weekend. I have identical twin sons who I adore. I've been preparing myself that its going to be hectic and busy moving them in. Im hoping to break down in car on ride home. We shall see.
Brian Rutter  Kept repeating The Circle Game in my head with each goodbye. Offered dumb platitudes/advice while the years crumbled away.
Nancy Wolf  Missing her already; younger bro in backseat, now solo kid, unhappy too!
Kate Boucher  the first time I was sick to my stomach. This one will be so much easier. Almost looking forward to it!
We would love for you to share your story about your child leaving home in the comments below, on our Facebook page, or give us a link to a story you've written. Thanks!
Photo Credits: University of Denver, UWGB (2)