When my second child left for college, he took some extra baggage. Along with his duffel bags full of sweaty socks and ripped, but beloved, t-shirts, he flew off to school with a chronic, incurable and sometimes life-threatening disease: Type 1 Diabetes.
Before he went away, I spent months agonizing over all the horrible possibilities he might encounter and prayed he'd develop tight friendships with people who would care enough to look after him in an emergency.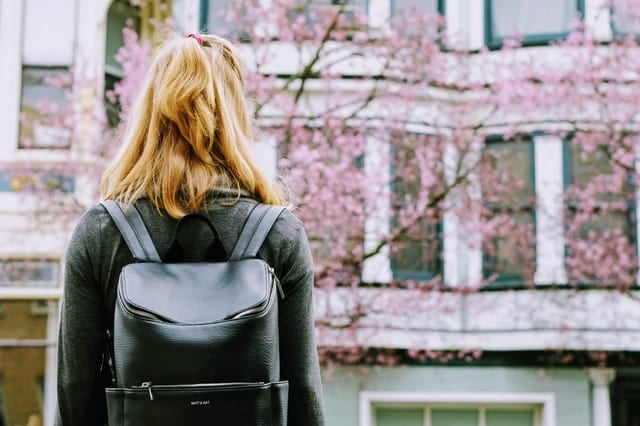 All of my fretting was pointless, of course. There wasn't a darn thing I could do. He was an adult and determined to make his way in the world. Sure enough, he found good friends, got good grades and stayed relatively healthy. Phew!
There are countless other college students who carry the additional burden of a disability, from Epilepsy, Chrohn's Disease, severe allergies, physical impairments, learning disabilities and many more. And behind each one is most certainly a parent who worries.
For anyone else who might be staring down that tunnel of uncertainty for the first time, I offer some tips.
How Parents Can Help College-Bound Teens Who Have a Disability or Illness
1. Contact the university's disability services office as soon as your child decides on a college. Don't assume the high school's 504 plan will automatically follow. Most universities have a department that helps students who require anything from accommodated living situations to extended time on tests to priority registration – a must if the timing of classes is an issue and a bonus if your child attends an impacted state school. (Very few bonuses with a disability, take them where you can get them!) The university may want a copy of your child's 504 plan, a doctor's note, and probably an interview. Take the time – it is worth it.
2. Make sure your child has enough medication or medical supplies to last for several months or until the winter break, but ensure he or she has a copy of the insurance card in case of a need for refills at the local pharmacy. (Which will be scouted out on day one, of course.)
3. If you haven't already, invest in a medical ID tag of some kind. There are a number of websites that have a range of fashionable bracelets and medical alert jewelry, even for men. This is a must to ensure that, in case of an emergency, a first responder is able to immediately identify the specific needs of your child. Many of these can be engraved with your child's medical condition, medications, allergies and emergency contact information. Some places to start: www.Laurenshope.com, www.hopepaige.com, www.americanmedical-id.com.
4. Have your student sign a privacy release form and make sure the school has a signed copy on file. If a medical emergency arises on campus, you have no right to the specifics of the emergency (even though you are the parent and you pay all the bills) and will not be contacted unless this form is signed and on file with the school. Also be sure to have your child sign a health care proxy or advanced health care directive appointing you or someone he or she trusts to make life or death decisions in case your child is unable to make those decisions.
5. Get the roommates' phone numbers and give them yours – but don't call or text! Your child will be sharing a ten by ten square foot space with these students for the next nine months. They will most likely be the first ones aware of an emergency involving your son or daughter and you will certainly want them to inform you. But only contact them in an absolute emergency – like if your child has not responded to phone calls or texts for several days. (Be prepared to be ignored – their newfound freedom sometimes comes with an inability to appreciate a parent's capacity to worry.) Not only do the roommates not want to hear from you on a daily basis, it is highly probable your child would be mortified if you made use of those numbers without an extremely good cause.
6. Send care packages, visit on parent's weekend, and let go. As hard as it is to have a child with a disability, it is not your disability and ultimately not up to you to manage it. You need to show that you trust your child to make good decisions and take care of his or herself. If there are hiccups along the way (which happens), of course you will be there to listen and help navigate the problems, but respect your child's choices and try to be supportive of even the questionable decisions. Isn't that the whole reason for sending them away?
And don't forget to breathe! You've raised a smart young person who is eager to spread their wings and not be defined by a disability. Be proud and have faith that you've done the best that you can. And enjoy the view as you watch the little person you gave birth to grow into a competent young adult who did not let obstacles get in the way of hopes and dreams for a bright future.
Related:
46 Favorite College Care Package Ideas 
College Student With Type 1 Diabetes: What I Fear the Most
Learning Disabilities: How to Succeed in College From Day One
SaveSave
SaveSave
SaveSave
SaveSave