Many parents do it thoughtlessly. We prattle on, speaking words first to babies and then later to toddlers that they have no way of understanding. We do it to keep them engaged, to fill the silence of hours spent with our children who are not yet verbal. Later as they learn to speak, we chatter to elicit their imitation, to model patterns of speech. Often we just speak a stream of consciousness, a narration of our actions, thinking that the sing-song of our voices and the animation of our expressions that will entertain our tiny child.
No one told us to chatter like this, but maybe our mothers did the same to us. Now scientists and doctors tell us that our endless speaking, the stream of thousands, and eventually millions, of words that we rain down on our children, is the best possible preparation for their later education.
While formal education for children in the United States begins at age three, four or as late as five, researchers have shown that there is a word gap that has already opened up by 18 month olds between children from poorer and wealthier families. By age three, children from wealthier homes have heard an astounding 30 million more words than those from poorer homes. That gap only widens and the effects are felt in the classroom, according to the New York Times, "Since oral language and vocabulary are so connected to reading comprehension, the most disadvantaged children face increased challenges once they enter school and start learning to read."
While there is much demand from the public for expanded early childhood education, the deficit starts so early that even children lucky enough to be in a preschool program at three have already fallen behind. "That gap just gets bigger and bigger," said Kris Perry, executive director of the First Five Years Fund, an advocate of early education for low-income children. "That gap is very real and very hard to undo."
The answer begins in the home with parents acting as their children's first teachers. I have been inspired by the work of a program in Mt. Kisco, New York, called Neighbors Link Northern Westchester which works with immigrant families showing parents how early language and verbal interaction, in either Spanish or English, is essential to their children's educational development. Similar programs exist throughout the country but do not come close to meeting the need.
At Neighbors Link, parents work with their birth-to-four year olds and trained parent educators, to find ways to help their children be successful in thriving in a bicultural family and preparing them for transition to school. This is not flash card learning or drilling kids on their colors or body parts. Rather parents are shown how to incorporate, questions, conversation, and importantly reading and probing dialogue into their family's daily lives. It is a parent centered, child focused program that uses evidence informed programs to teach parents about early childhood learning and how it can best be practiced.
Earlier this month the American Academy of Pediatrics announced a policy whereby their members would recommend that parents read to their children from infancy. "If we can get that first 1,000 days of life right," said Dr. Dipesh Navsaria, an assistant professor of pediatrics at the University of Wisconsin School of Medicine and Public Health told The New York Times, "we're really going to save a lot of trouble later on and have to do far less remediation."
The families who come to Neighbors Link are inspiring. They have left their communities and their homes to find opportunity for their families. Often they have faced the obstacles of poverty, language and culture to help their children successfully navigate a new home. By coming to a well staffed community center, welcoming home visits from parent educators and participating in programs like "Parents as Teachers" and "Parent Child Together" they are taking steps from their child's very first days to overcome these obstacles, to close the language gap for their children.  Learn more about the work of Neighbors Link in Parent Education.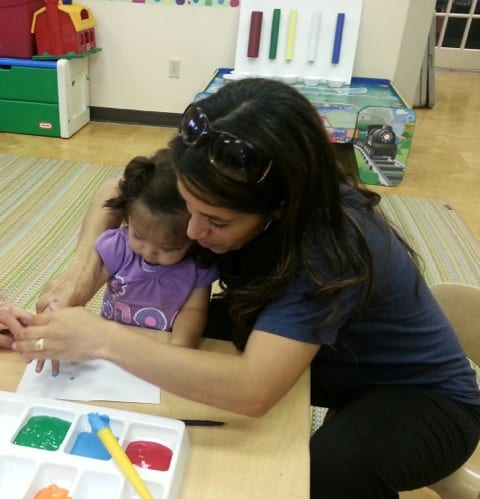 As the school year begins, too many children are already falling behind. We are 1 of 30 bloggers helping #FindtheWords with @SavetheChildren to raise awareness of the need for early childhood education for all kids.
Save the Children provides kids in need with access to books, essential learning support and a literacy-rich environment. Learn more about Save the Children's work in the US and around the world. We participating in this social media campaign to highlight 30 words in 30 days — to symbolize the 30 million fewer words that children from low-income homes hear by age three.