It was 89 degrees ("feels like 95") just last week when Mara walked a mile to my house and had to hop in the shower upon her sweaty arrival. So, I figured it would be awhile before I could even think about fall clothes, and then this happened – 3 days later the temp dropped 35 degrees and now it's windy, rainy, cold and I just pulled out my very vintage (aka OLD) Burberry trench.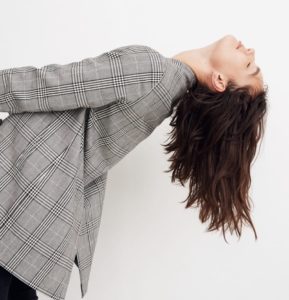 (So you may ask – what was Ms. Mara wearing when she stopped by? Super cute and on trend – J. Crew wide-legged trousers in navy – comes in lots of colors and black denim as well. She paired it with a wide cropped t-shirt, the proportions were perfect, with her super comfy but chic Everlane Day Glove ballet slippers, 10 colors available!)


My mom gave me a few beautiful Burberry trench coats – she collected them when she lived in London in the 80's. If you don't have a generous mom with an obsessive collecting gene – here's a stylish J. Crew version that you could wear for years and a Michael Kors trench with a hood.



Speaking of Burberry, I just got these Via Spiga slides that are oddly perfect Burberry colors and look amazing. I'll pair them with Mara's wide-legged trousers and this terrific oversize shirt from Lou & Grey. It's made so you can tie in the front without showing any belly, and the shirttail in the back is long enough to cover your "bunda gostosa". (A compliment in Portuguese referring to your beautiful delicious rear end).


I'm looking for an oversized long blazer in plaid – like this menswear version. It's a new cool way to upgrade any casual outfit this season. I just came from yoga class where a woman ran in with a long plaid blazer over black tights and with these Veja sneakers, she looked great.



Two products that are essential as we head into the fall – first this Dyson Supersonic hair dryer. In the summer, I can let my hair air dry in but now in the fall, my hair will never dry on its own. You've probably been thinking – yes that Dyson seems great, but it's pricey and really, how much better can it be?
You will be amazed first by how light and quiet it is, and it works so quickly and leaves my wavy hair shiny and sleek. The second item will be very helpful as you pull your folded up sweaters and wool out of storage – this $20 steamer. Just a moment of time and everything looks super fresh. (I also used it all summer with linen!).


Ok – back to the cats/dogs raining down outside –  does anyone think can I pull off this trend – wearing my Burberry coat inside out? (Elle magazine called it the "Tokyo Spring Staple".)
Shop our fall favorites
XoXo
Related:
Grown & Flown Style: Fall Forward
Grown & Flown Style: Transition into Fall
Rock & Roll Mama: Fall Primer
Grown & Flown: Traveling in Style
Loungewear with Kids around: How not to be a Mrs. Robinson

We are Pam and Mara, Grown and Flown's  in-house style gurus. Based in Brooklyn, we've been friends for over 20 years, with four boys, many proms, graduations, beach vacations and birthday dinners between us. Mara's been living in jeans and t-shirts working in the fashion world in London, Milan, LA, and NYC, producing editorial and ad shoots for over two decades. Pam's been suiting up for the corporate world as a chief marketing officer in the live entertainment/sports business.
We've always been a little obsessed with style and how we use clothes to help us feel attractive and self-confident. You'll often find us yelling at each other over dressing room walls, or trading texts at midnight about that one pair of size 8 boots left on sale online at Nordstrom.com. But over time, we've found that dressing and feeling great has become much more challenging. And that's even more frustrating now that every moment has turned into a photo opp.
We want to feel comfortable and appropriate with our style choices so that we can face the world each morning with confidence and ease. We're in search of cool, effortless style that makes us feel amazing and powerful at this very age. Please join us at Grown and Flown as we venture forth into this new world together, at our website TheKoolestWomen.com and at Facebook and Instagram @thekoolestwomen.
SaveSave