I MOW A LOT.
I own five acres and I cut them with my little John Deere garden tractor. It takes hours and hours, and when I finally finish, my field of weeds looks like an expansive lawn. An estate. Not exactly a major league baseball outfield, but when it's green and mowed, it feels something like that.
When I mow a lot, I think just as much. I put on my ear protection with no music, with just the muffled hum of the machine beneath me, and I get lost in my own head. I mow squares or rows or circles, and sometimes I cut random freestyle patterns. Automatic pilot, with nothing but thinking. Nothing but private thoughts, secure inside my ear protection, safe inside my head.
I always reminisce about my life while I mow the lawn
Today, from the distance of a few acres, I see our Victorian-style country house, the place we raised our kids. I see the wrap-around porch my wife loves so much. I spot her colorful hanging baskets, wrapping around the porch that wraps around our home.
When I mow, I always gaze at my house across the fresh-cut field, and I'm overcome with love. Not young love, with its promise and hope. Old, deep love. Content love. Near-the-end love, with a dash of heartache.
What comes after the wave of love, what always comes next is I think about the big block of life I've used up, and the small chunk that's left. Bittersweet isn't exactly the right word, but it'll do.
Inside my ear protection, inside my head, I travel back many years to a day I turn forty-something. Like no other birthday, this particular age hits me–it rocks me–and I say, to my buddy who's there, I blurt, "Wow, that's half my life already." My cynical friend, the guy with a plain, direct way of talking, contributes, "The best half."
I have more days behind me than ahead
I chuckle like it's a joke, in that odd way you do when something suddenly makes you uneasy. But it's not a joke. What it is, is the first time I really grasp that life isn't forever.
Today, sitting on my humming John Deere, I'm in my 50s. Technically, I am. OK, I'm 59 and I'll turn 60 in a month. But the point is, no matter how you try, you can never convey to people how quickly time passes. It's like trying to explain to someone without children, the joy they bring. What that love is like. It can't be described so some childless someone really gets it. Not truly. For truly, we all have to travel these roads–time flying, and kids–for ourselves.
My thoughts mow a pattern back to now, back to my field and house, and the smell of fresh-cut grass. I'm wearing my favorite navy blue sweatshirt, an old-school crew neck, extra heavy and warm on this cold fall day.
The fabric is soft from workouts and yard work, and maybe a thousand washings. It's distressed from actual age and use, not from that fashion kind of fade. This bad boy features real wear and tear, with frayed cuffs, grease stains, and discoloration from being abandoned in the rain for a winter.
It seems I haven't owned my sweatshirt all that long, but I do the math, and suddenly it's twenty-five years old. Long past its prime, past the time for donation to the Goodwill. Past the time, even, to throw it away. When your sweatshirt survives this long . . . it will outlive me. I examine the thought as I stare down at my frayed sleeve, as I gaze and reflect, feeling tired and faded.
Now, my old sweatshirt stirs even deeper thoughts, the kind you don't talk about. Thoughts of my kids finding my favorite sweatshirt in some box. Of them looking out from our wrap-around porch, out across our overgrown field–my field of dreams gone to seed. Them imagining me, humming along. Them realizing they'll never see me again, feeling that stark reality. My sweatshirt triggers all this, these thoughts of death, all mixed up with my children.
I think about my kids going through my stuff after I'm gone
I continue cutting automatic patterns with my little John Deere. My private thoughts surge ahead. There's my kids, the three of them, all grown up with their own lives. All gathered in the living room of their dead father's house, the living room in the Victorian over there, a few mowed acres away. They rummage through boxes, deciding what to keep, and what to toss.
The rummaging sends my thoughts backward in time, to my dad, and the things that outlived him. The stuff you sort through, deciding. When you lose your dad, every piece requires a solemn decision.
Some of the items you keep are just because they were his. Like an old electric razor you'll never use. One that doesn't work. Like a late sixties hippie belt with colorful flowers stamped in, hand crafted from stiff leather.
Some of his things, you hold on to them because they represent him so well. Like the red, white, and blue hockey glove, curled and molded permanently in the shape of Dad's fingers. He played hockey until he was 80, and I don't brag much, but I'm damn proud of that. Sometimes I slip my hand into his glove, and those are the times I feel him, and miss my father the most.
Some extraordinary things you keep, and those things, even if you tried, you couldn't convey the meaning. Like the American flag, folded in the shape of a tri-cornered colonial hat, handed to my mother at Dad's military funeral. In my head, I see Mom holding the flag gently on her lap. A tear runs down her cheek, out from under her oversized, garage-sale sunglasses.
The singular things, unimaginable things, you tuck them safely away, someplace special. Like the buttons that survived the fire, buttons from Dad's US Army dress blues, the uniform he wore in cremation. Charred brass buttons, sifted from the ashes of my father's body. Like time flying and loving your kids, you can't really explain these things, but you get the idea.
Today, when I think about dying, it doesn't bother me. I've lived a good life, with some hard times mixed in. It's the hard that makes the good, special. And it's love that makes a life, good. I've had good, and I've lived hard, and I've felt my share of love, but the point is, I'm content. Death happens to all of us, so when it's my turn, I'll go.
I worry whether or not my kids will be okay after I'm gone
But all this thinking about dying makes me wonder about my kids. Makes me worry about them. I can live with my death, but can they? Will they be OK? I can't say, but I take comfort from my own experience–losing my dad, living through it, eventually being OK.
Gazing at my house from my bright yellow seat, in my head, like on a little video screen there, I see my kids sifting through my stuff when I'm gone. Lost in their own heads with their own memories, respectfully sorting things to keep, or toss. There is no talk, and no rush. It's tranquil, this scene on my little video screen.
My Air Force oldest fishes out a second place Little League baseball trophy from 1967. The first award I ever won. The ballplayer on top is floppy loose, and my first-born twists him, trying to tighten the fifty-year-old relic. Trying to make the chrome-colored hitter presentable, maybe for a place in his own house.
My sweet girl, my daddy's girl, she discovers a piece of notebook paper with something I wrote to her when she was born. My handwritten words tell her that I'm so happy to finally have a little girl, that I promise to love her forever, that I will always be there for her. That last promise makes my princess cry softly. On my mower a few acres away, I do the same.
My blue-collar son, my middle child, the hard worker, he pulls out my worn out sweatshirt, the one I wear now, the one that outlives me. He holds it wide by the shoulders and stares, looks right through it, reflecting on private things in his head. After a moment, he gently pulls on one sleeve, and then the other. He ducks his head through the collar hole. He adjusts the rest of it around his waist, and sits there. Sits still, in my sweatshirt, in the quiet.
The stuff is just stuff, it's the love that matters
On my mower, the job is finished now, the last little patch of weeds knocked down to look like lawn. I sit there, mid-field, and think about all these things I can never explain. How time pretends to last forever, but doesn't. How loving your children is everything that matters. How brass buttons, and hockey gloves, and sweatshirts, are much more than dusty old things stuffed in some box, waiting to be tossed.
Today, one last time, I gaze across my freshly cut field. I look at my house and imagine all three of my children, my two sons and my sweet girl, smiling through tears as they resist tossing anything of mine. I realize that this story, these private thoughts, are about death, only happier. Happier, because I'm not dead yet. Happier, because I have some fleeting time left. Time still, to love.
Not ready to call it a day, I drop the mower deck another inch. I steer away from the house my wife loves, the childhood place of my children, and start again. Start over, mowing patterns.
More to Read:
Holiday Gifts for College Kids and Teens – We Love These!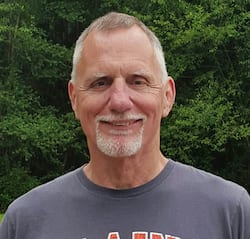 Craig Foster, a father of three, lives with his wife and their youngest on five acres in Blaine, Washington, on the Canadian border. He is a teacher and was a high school wrestling coach for 36 years until he retired from coaching last spring. He is enjoying the extra time to write once more.