On the main street of the town I grew up in, there were two restaurants – the Edelweiss and the South Seas. How a small town in Connecticut ended up with these dining possibilities I do not know, but in any case we never went to the Edelweiss (where I imagined the women wore lederhosen and the sound track to the Sound of Music was played in a perpetual loop).
On the other hand, we did venture with some regularity to the South Seas where the drinks, with alcohol and without, came with paper umbrellas and where we ate puffy fried things in sweet sauces. Everything must be sweet in the lands bordering the South Seas! The South Seas also had a gift shop so if we were lucky we might leave the restaurant with more than a paper umbrella. We particularly liked the dipping birds, odd long-necked glass birds with bulbs of colored water for bodies that would perpetually dip their heads to drink in a trick of physics that was magical.
For many years, a dipping bird resided in my father's den, the place he spent the weekend days listening to the opera and smoking cigars. Dipping birds were mysterious, and so were fathers in those days. My father worked hard and he was good and kind and generous to us but he did things we couldn't always understand. For a long time he had a mistress. She came everywhere with us, sleek and strong. She fit in the suitcase, could be hidden under the armchair, or in the medicine cabinet. My mother hated her from the outset, but it took my brother and me some time to realize how insidious she could be.
Still in those den days, the mistress lurking by his side, my father taught us algebra and read us Shakespeare. He forced us out of bed on Sunday mornings for family walks around the town reservoir and, in the summers, up the White Mountains. He pointed out the ferns and the lichen, knew the birds' songs and carried a snake bite kit. Who needed to travel the South Seas to find strange creatures?
As the years progressed and we got older, the grip of the mistress grew stronger and stronger, and in her sway my father lost his way, and almost lost us. We set about on our own travels, avoiding home at times, or dreading it as things grew worse. One cold, snowy night, my father left a party alone (no alcohol left), and headed down the main street of our town to walk home. Whether he could even make out the Edelweiss, or the South Seas is debatable.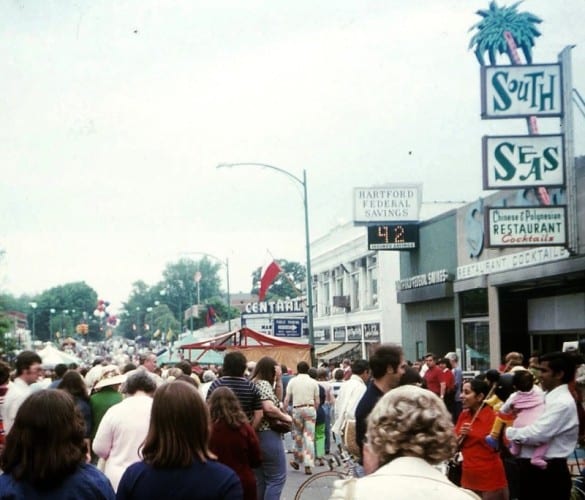 At the house he finished everything but a finger of a bottle of vodka. The next day, humiliated and angry, my mother told him it was the end for her. Had he not been taken by a friend of theirs a few days later to an AA meeting, it might have been. And we wouldn't have blamed her.
Some people never drink, and others can't stop. Many of us are somewhere in the middle, like the dipping bird, mostly taking the right amount and keeping a balance. It is another mystery – of genetics and circumstance – that governs where we end up. My father traveled to the very edge, teetered there, like he used to at the top of the mountains we climbed as children, and was pulled back to safety.
Whenever my parents visit me now, my dad attends one of his favorite AA meetings in my neighborhood. For twenty-one years now, he's been going to meetings all over the world. In them he's found the camaraderie, the solace, and the inspiration that he never could with his mistress. He's found my mother again, and his children. He'll tell you he's one of the lucky ones.
My own children will never see my father have a sip of alcohol. It is something they take for granted. But I don't. Every day it is still a decision he makes. I want them to know this, especially as they approach their twenties and head out into the world. Things aren't always easy, or simple, and they may not develop the way you planned. But there is usually a path forward and someone to lend a hand if you're ready to take it.
This Sunday my father is taking my daughter up to New Hampshire where she'll walk some of the same trails we did years ago. As she prepares, if she looks in the cabinet over the washing machine at my parents' house, she'll see a bottle of vodka with just a finger left in it. It's been there for twenty-one years.
On Father's Day, I'm always grateful for all that my dad has given me, and continues to share – his wisdom and experience and affection. But I am also grateful for what he's been able to give up.
Christine Kouwenhoven lives in Baltimore, Maryland with her husband and three children (mostly grown, one flown). She works as the Director of Communications & Grants at Baltimore School for the Arts. Christine has an MA from The Writing Seminars at Johns Hopkins University. She shares poems and reflections regularly on her blog poempost.com.