Over the holidays I did some reading and caught up on your, our readers, book suggestions. One important caveat for my selection is that if it's not on Amazon Kindle, I won't read it.  All my life I have loved books, read them, wrote them, and even collected Modern First Editions, scouring used bookstores everywhere I went.  Now the walls of my house are lined with the fading cloth spines of books I will never touch again and my iPad is bursting with the titles of every book I love.
For me, turning a page feels like rolling down a car window, or dialing a phone, not something I am going to start doing again.  I have had this argument, book vs e-book, with many, many friends, and my own children who prefer paper, but I am pretty sure that time is on my side and here is why.
Many argue that reading is a totally sensory experience and that the paper book is part of the whole.  It was, and will no longer be. Like every other aspect of technology, at first we are intrigued, then ambivalent as we straddle two worlds, and, finally, we wonder what we were thinking and adapt.  A typewriter was a sensory experience too, what with the paper, roller  and ink and the tapping sound on the keyboard…
Most all of the bookstores in our suburban New York area are closed, so buying a physical book now involves a multi-day wait. One way or another we will be ordering from Amazon and with books on Kindle the wait is mere seconds.
But what finally did me in, made me 100% certain that I would never read a paper book again was a little button on the Amazon site—"send sample chapter."  I don't believe you can tell a book by its cover or even by the flyleaf so carefully crafted by the publisher.  WIth "send sample chapter" I get to try before I buy.  If at any point bookstores let me rip out the first chapters of books, take them home and then throw them away, free of charge if I don't like them, I will consider returning to the land of dead trees.  Until then here are my book suggestions, and they can all be found on Kindle.  

Sweet Tooth (2012)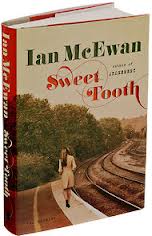 I have been an Ian McEwan fan for most of my reading life, even when I didn't love one of his books or had the sense that I failed to appreciate all that was in his writing and he went straight over my head.  I did not love Saturday or On Chesil Beach but, like so many of his readers, I fell in love with Atonement.  I may love his newest book, Sweet Tooth, every bit as much.
Wander through London today, with a stroll down luxury laden Regent Street by Burberry and Barbour, and it is easy to forget the dire circumstance in which Britain found itself in the 1970's. This was a decade wracked with weekly power outages, miners strikes and violent clashes over Northern Ireland.  McEwan brings us back to this world through the life of a would be girl spy, Serena Frome, who, in an unlikely twist, is combating Communism through the arts in a covert program called "Sweet Tooth." The book is so painfully well-written and the ending such a complete surprise that the reader never feels toyed with by this masterful writer.
Serena is a voracious yet uncritical reader, and a totally compelling character and we want her to do well even when we think she may have done wrong.  A recent Cambridge graduate, Serena meets the man she loves under false pretense and then is trapped in her own lie.  But this is a world of lies and spies and our girl Serena has found her position in MI5 through an affair with a married man, who she is just beginning to learn, is not who she thought. Although she had taken a job that relies on lying, Serena wants the truth, she wants love but places herself in untenable romantic relationships. McEwan does not leave her any obvious way out.
Me Before You (2013)
In Me Before You, the reader is settled into modern-day Britain in a small town that seems to stay afloat on the tourism the local castle garners. Lou, the cafe waitress who has no higher aspirations, is out of a job and, in desperation, takes a position caring for Will, the rich accomplished banker who now finds himself (as the result of an accident) wheelchair-bound and angry.
Will had a big life, Louisa wished for a small one, and the talented author, JoJo Moyes, shows us what happens when our sights are reset.  We hear Lou's voice, the fear and timidity, the bruising experience years earlier that caused her to, metaphorically, climb under the covers.  Readers glimpse Will's life, that of extreme adventures and glamorous girlfriends, and understand why the author has so named this character.
Yet here they are, trapped together by day in the small annex of his parents' home, both grown adults, now living as children.   He doesn't want her help and she doesn't want to give it and by the end of this wrenchingly sad love story, the tables are almost turned, but not quite. Lou's long term boyfriend runs marathons and Will cannot use his own arms or legs but in Moyes' skillful writing, we see why the relationship between patient and caregiver becomes a far more loving and sensual one. Will's physical limitations and Lou's emotional ones are excruciating to watch, both because we fear they may never fully overcome them and as readers, we are forced to look at our own.
Where'd You Go, Bernadette (2012)

You are going to have to trust me on this one.  If I told you that this book involved a reclusive bitter mother running off to Antarctica, her undersized genius daughter trying to find her, trailed by her father, who although a really good guy and a TED talk speaker, has just…like I said, you are going to have to trust me that Where'd You Go, Bernadette is a book you want to read.
The narrative is a series of documents, letters, and emails all created through different characters' voices, a technique the author Maria Semple hones to perfection.  Even the book's contrived twists of plot are not a problem, so strong are its compelling characters.  Bernadette involves implausible names, bizarre places, a genius grant for an architect who built a single house, a daughter named Balakrishna and a family living in a house that should have been condemned a decade earlier.  The book is a sensation, with movie rights already sold, but you will want to read it long before then.  I read it twice, need I say more.
By Grown and Flown Parenting From the Empty Nest