Is reading more books a goal you have this year? Perhaps you've seen this 2016 Reading Challenge, and you're both eager to get started but also a bit intimated. Well, pull out your favorite bookmark and get ready to read, because I've got some reading tips and book recommendations to help you successfully navigate and complete the challenge.
2016 Reading Challenge
* A book published this year
Go ahead and put this one off until the fall. Typically, large publishing houses publish and release the year's biggest and most anticipated titles during the summer, often to take
advantage of summer vacationers finally having time to read while relaxing on a beach. Summer is also the time of year when you'll see NYT bestselling authors who write a series release their latest installment. Finally, by fall you'll be able to use reviews of summer releases to help make it easier to decide which 2016 book you actually want to read.
* A book you can finish in a day
Great choices for this category include what I call inspirational tidbit titles. These are books you can easily whip through in a day, but whose message will stick with you for many months and years after. They're great titles to own, as you will want to go back to them again and again. Think books like Tuesdays With Morrie by Mitch Albom, The Last Lecture by Randy Pausch (bring tissues,) The Giver by Lois Lowry, The Butterfly Effect by Andy Andrews, and The Gifts of Imperfection by Brene Brown. Peruse the gift book section at your local bookstore for similar short feel good titles.
* A book you've been meaning to read
These are all those buzz books of the last few years. They're the ones book clubs are swooning over and friends are raving about, but you just haven't had the time to pick up. Good news is, by now these page turners will be readily available at your local library, and most likely will be in affordable paperback. So stop making excuses, and grab one of these titles. Gone Girl by Gillian Flynn, Still Life with Breadcrumbs by Anna Quindlen, The Husband's Secret by Liane Moriarty, Orphan Train by Christina Baker Kline, The Rosie Project by Graeme Simsion, The Goldfinch by Donna Tartt, Life After Life by Kate Atkinson, Everything I Never Told You by Celeste Ng, The Girl on the Train by Paula Hawkins, What She Left Behind by Ellen Marie Wiseman, and The Kitchen House by Kathleen Grissom.
* A book recommended by your local bookseller or librarian
Skip the 19-year-old making minimum wage at the big box bookseller, and head straight to your local library. We forget that librarians are not just information vendors, but are voracious readers themselves. They are highly trained to have actual real conversations with patrons, extracting their book likes and dislikes with precision unmatched by someone stocking books at the book superstore. They spend hours studying collection development, reading book reviews, and galleys, and love nothing more than to place the perfect book into the hands of its perfect reading match. So head into your local library, introduce yourself, and ask, "What should I be reading?"
* A book you should have read in school
If you have dreadful memories of high school English class, this challenge may hurt the most. Having said that, you may be surprised to find out that being of a certain age has marinated your brain sufficiently enough to allow for actually enjoying some classic literature. And bonus!Thanks to Project Gutenberg, most of these titles are free in digital format and available to download ASAP. Your Kindle won't know what hit it! If case you've forgotten, traditional high school reading lists include most of these authors, so pick one and pretend you're 17 again, Your vocabulary bank will thank you. Try Jane Austen, George Orwell, Thornton Wilder, John Steinbeck, Ernest Hemingway, Ayn Rand, Ray Bradbury, F. Scott Fitzgerald, and Emily Bronte.
* Book chosen by spouse, partner, BFF, or child
You're on your own here, but if it was me, I'd ask a friend. And make sure to tell them you're open to anything they offer, and will not judge them based on what they recommend. This is crucial, as we've all read books we're probably ashamed to have read. But who cares, you're reading, and that's all that matters. (So if your mild-mannered, buttoned up girlfriend suggests a book of the steamy sort, just go with it.)
* A book published before you were born
Easily found by doing a search on Goodreads that may look like this "Best Books of the 1960s" which will lead to lists like this "Novels Written Before 1960."  These lists can be generated for any decade.
Good options for this challenge include books you may have read as an adolescent. Think young adult titles from Judy Blume, Roald Dahl, S.E. Hinton, Madeline L'Engle, Scott O'Dell, Paula Danziger, and Jean Craighead George.
* A book that was banned at some point
Would you believe that the Harry Potter Series tops the list of the most challenged books according to the American Library Association (ALA)? And all of these amazing books have at one time or another been challenged and/or temporary banned. The Bluest Eye by Toni Morrison, The Kite Runner by Khaled Hosseini, The Hunger Games by Suzanne Collins, Looking for Alaska by John Green, To Kill a Mockingbird by Harper Lee, My Sister's Keeper by Jody Picoult, The Color Purple by Alice Walker, The Chocolate War by Robert Cormier, The Call of the Wild by Jack London, The Things They Carried by Tim O'Brien. Need more? Visit "ALA Banned Books List."
* A book you previously abandoned
Truth be told, I have tried to read The Count of Monte Cristo five times now. It's just not happening. It's not me, it's him. I simply can't do all the footnotes with french translations. Will I try again? Probably not, but it's not the only book I've abandoned (made it to page three of Fifty Shades before tossing in the trash.) This is the only "challenge" on the list I think I have issue with, because if you abandoned a book there is probably a really good reason for it. And that reason is, it's just not for you. One of my best parenting moments ever was when my teenager looked at me and said "You know, life is too short to read bad books." That is some serious kid wisdom we all need to take.
* A book you own but have never read
I am a book hoarder, and scarily guilty of this. I've got books lying all over the house whose spines haven't seen the slightest crack. I'm going to go a different route here, and count all non-fiction books such as cookbooks, self-help, and how-to books in this category. We all have those books we bought in the hopes of learning something new, but are now sitting on bed sides acquiring dusty jackets instead. Well, go get them and read them. NOW. This is the year I promise to learn how to make an epic white chicken chili, discipline my kids more intelligently, and de-clutter the crap out of my house.
* A book that intimidates you
Sadly, I have helped many a library patron who has admitted to not feeling smart enough to read a certain genre of book. They yearn to read Pulitzer Prize winners in contemporary fiction, but find themselves lost in lengthy paragraphs and give up too quickly. I often suggest to them they begin with a collection of award-winning short stories. Try The Best American Short Stories. It is published yearly under the same title. It is excellent writing that is not intimating, and can be the perfect gateway book to ease you into contemporary fiction you once thought you couldn't handle.
* A book you've already read once
Suggestion here, get a book you've already read and listen to the audiobook version. (Yes, listening to audiobooks counts as reading!) You won't believe what you missed the first time. It will feel like a totally new read when listening to the words from a narrator. Also, re-reading an old favorite is the best way to ease back into reading. It will remind you why you loved reading in the first place, which in turn will have you looking for your next great book as soon as you finish the old standby. There is no shame in reading titles over and over again. I may or may not have read Little Women eight times now.
Whatever you do, don't let the 2016 Reading Challenge go unchallenged, and don't let it stress you out. Take baby steps, reward yourself for finishing a title, and enjoy the reading ride. You just might reignite your love of reading flame, and how enlightening would that be?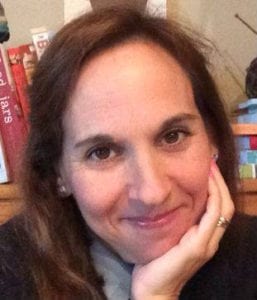 Melissa Fenton is a freelance writer and adjunct librarian. Find her writing all over the internet, but her work mostly on the dinner table. She is on Facebook at 4BoysMother and on twitter at @melissarunsaway.