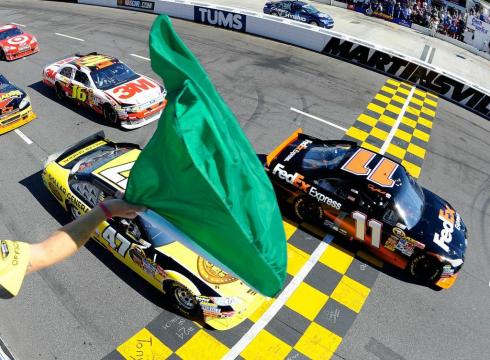 Mary Dell writes: For our two families, Thanksgiving weekend offered a chance to Lisa and me to say helloandgoodbye to our older sons who swooped in for home cooked meals and nights out with friends before heading back to college.  Though our youngest, both 11th graders, also resumed classes, they returned to a new phase in their lives, thanks to the College Board.
Like a Daytona 500 starter dropping the green flag, the College Board will soon mail PSAT scores to high schools, signalling the beginning of the race known as college application season.
The PSAT is big –  3.5 million kids big – and it is the one pre-college test that all juniors take with all of their classmates on a single day in October.  It is a rite of passage going back to 1971 (hey, we took it too!) and, for generations of kids, the PSAT  has started the ball rolling.
This next lap will feel very long for high school juniors…and their parents, too. While our kids compete for college acceptance, we act as pit crews, praying there will be no crashes.  Lisa and I endured this with our older children and we can tell you that as they sit for SATs, SAT IIs, APs, ACTs (on top of the tests they take for their regular old school work) it is exhausting just to watch! No wonder "junior year" is a synonym for "stressed out."
It is not only College Board's calendar that forces our children to shift into a higher gear. Already, they have begun to leave behind a more innocent age on their own. I saw it clearly at my daughter's recent soccer team dinner. At the end of the night, eight juniors read a poem, honoring the eight seniors. While each 11th grade girl entered the dining room as an underling, each departed as a senior member of the team.
Likewise, our daughter turned 17 in mid-November, cleared by NY State to drive wherever, whomever and whenever she wants. She celebrated her birthday with friends at a Chinese restaurant. We were not on the guest list, did not drive a single girl, just waited up to hear about it.  This was a first for us.
By virtue of birth order,  she is and will remain our baby.  On the day she was born, when my husband brought our five-year old to see his sister in the hospital room, I was shocked at how changed my son looked to me.  He seemed much older than just the day before, as he stood on tiptoes to kiss our new tiny child. Now it is time for me to see her in a different light, perhaps for the very first time.
It's junior year and the College Board may hold the green flag, but if I look closely, I see that my child, our youngest, is already well down the track.
Is this how your child's junior year felt to you? Let us hear from you at Grown and Flown!